First look: Dainese X-Tourer D-Dry Jacket 2019
Can one jacket do it all, bulk-free?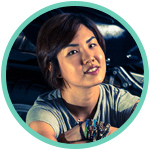 Words & visuals by: Cherie "Anyhowly" Tan
---
Gear alert: We've snagged a pre-launch set of the X-Tourer jacket from Dainese's 2019 lineup of touring apparel, which means we'll get to suss out what works and what doesn't, before it even hits the stores.
This isn't a paid review, so all views are my own. Let's duck under the marketing smoke and get down to a real-world look at this jacket – bodily fluids, hairiness and all.
Dainese's made the X-Tourer for both men and ladies who ride hard and ride far. The Italian performance gear juggernaut wears a reputation for flashy technology and wicked style, but I'm looking out for comfort and functionality, since a touring jacket needs to carry me through long days and unpredictable weather.
Here's what comes in the bag: one feature-packed jacket and two interchangeable liners, for rain and zero-degree chill. This is expected to debut at the S$700-ish range for both the men's and ladies' cut.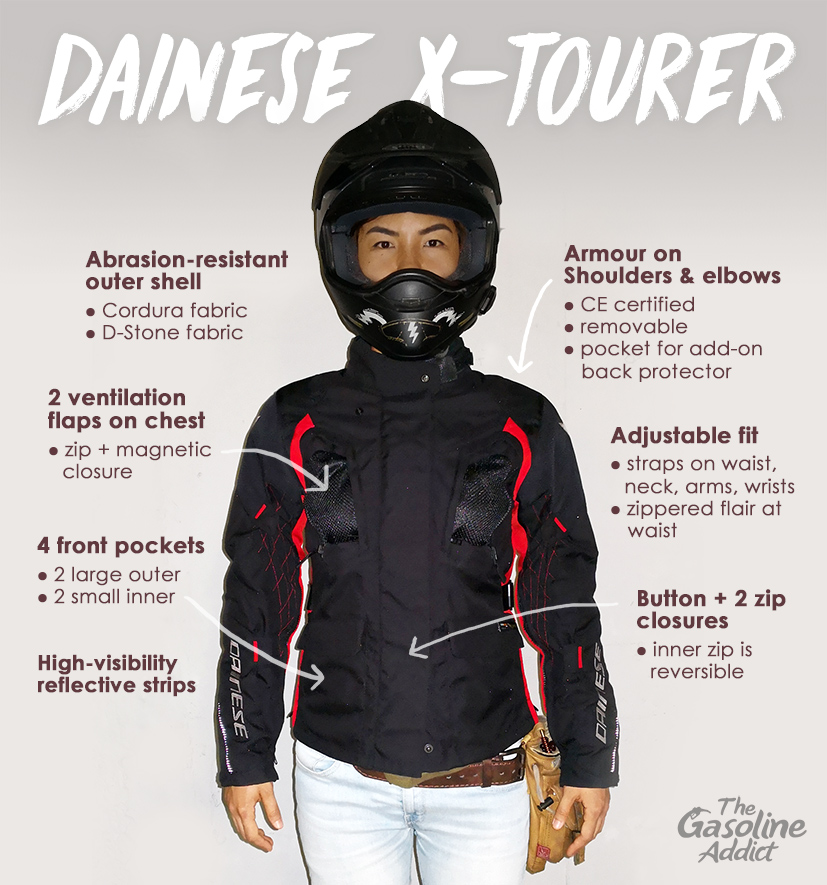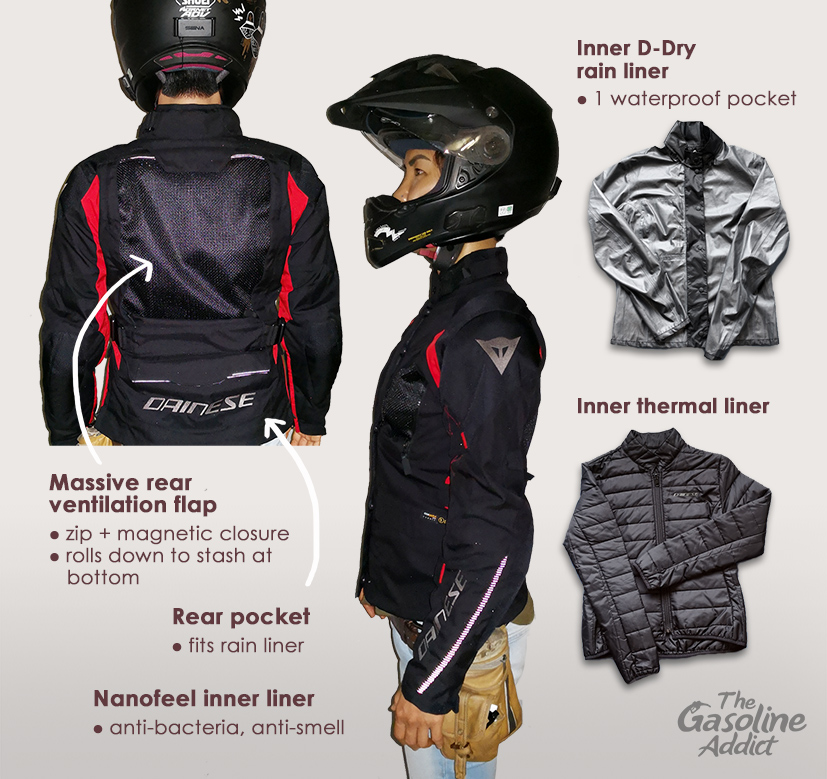 Riding around Singapore during her mid-year tropical best means having to take on brutal heat and abrupt thunderstorms. My impressions of the X-Tourer on the daily commute so far:
—
PROTECTION

With abrasion-resistant fabric and CE certified armour that extends all the way down to the wrist cuff, protective requirements are up to scratch, although thankfully, I haven't had to put that to the test. Many cheaper jackets are constructed with polyester, which just isn't tough enough for tarmac surfing, and will likely rip right through to your skin. Having CE approval means that the armour meets European standards for impact absorption. Without it, you might as well be wearing expensive pyjamas.
—
FIT & FINISHING
The cut is handsomely slim with an adjustable, zippered flare at the bottom. I'm 1.71m tall on a good day, with a gorilla-proportioned torso, for which Dainese's European fit in size 42 has been consistently flattering. Take note; no room for a beer gut though. Adjustable sleeves, wrists, waist and collar help keep things snug no matter how many layers you have on underneath. Good, because you wouldn't want the armour shifting out of place in a tumble. Poorly fitting gear is no protection at all! An inner zip allows you to connect the jacket to your favourite Dainese pants, creating an impervious set that can't slide up and expose your belly – always an option I'd expect from a premium brand.
Stitching is neat, symmetric and hidden where it matters; zippers feel heavy-duty and smooth – no shocking departures from Dainese quality standards. The inner set of front closures employs reversible zippers, but I'm not sure what justifies this extra bit of production cost, since no human I know owns a second pair of arms to unzip himself from inside a coat. Also, having to wrestle with two sets of front zippers is annoying and confusing. After awhile I used only the outer zip.
Happily, they've improved on the collar design for 2019. Older jacket models came with a velcro strap at the neck, which tended to catch on the soft inner lining and pull it ragged. The snag (pun intended) is that this version of the velcro nips at the lower left side of your helmet padding at some angles.
—
COMFORT
They could make an indestructible bomb suit, but I'd still leave it in the closet if it was bulky, hot and scratchy. Being massively allergic to heat, I practically live in light, full-mesh jackets, but those don't deliver enough protection and versatility for longer journeys.
I appreciate that the X-Tourer is a sleek featherweight compared to many other multi-season touring jackets, although it's noticeably chunkier than my regular Dainese Hydraflux mesh. That makes it abit of a struggle to cram into a 25 litre backpack and lug around town, if your bike isn't armed with enough storage. The extra weight is a small trade-off for the feeling of solid, unflappable encasement that I'm missing with a light mesh jacket.
No complaints here about the silky comfort of the Nanofeel inner liner. That puppy is practically a layer of soft tofu on my skin; next-level tofu that also repels bacteria and bad sweat smells. Yum! There's nothing scratchy about the collar and wrist cuffs either, although the former is just about high and rigid enough to block wind chill.
Now, here's my favourite feature of the X-Tourer: its heat-management system. On the jacket's front and back, the tough Cordura layer can be unzipped and folded away to unveil massive mesh panels – instant torso air-conditioning at a twist of the throttle.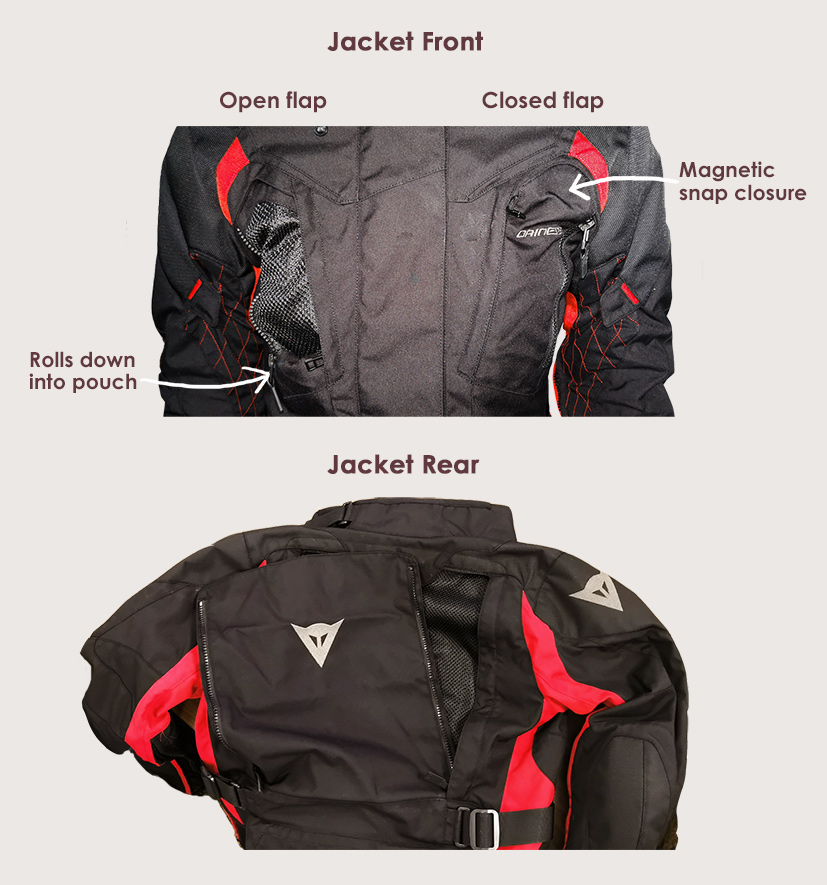 While the sleeves also feature ventilation zips, the heat still builds up quickly over the arms under the stout armour. Slow afternoon traffic tends to work up a sheen of sweat from my elbows down.
—
VERSATILITY
In a light drizzle, the water repellent outer shell holds up well enough on its own. The front ventilation panels aren't difficult to zip up one-handed, in a hurry, at the traffic lights.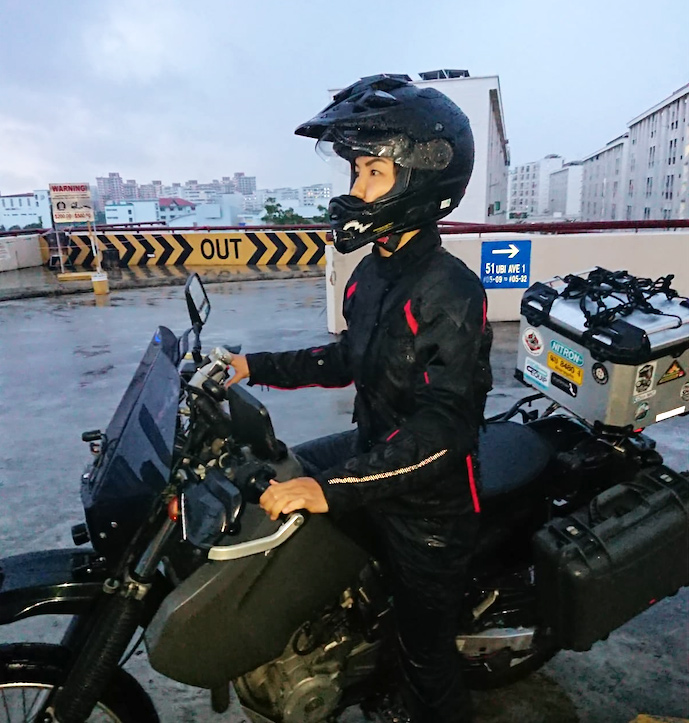 The D-Dry rain liner fits conveniently into the pouch at the back, and waterproofs well without getting stifling. Truthfully though, I still prefer an outer raincoat because that's much quicker to pull on by the side of the road. Also, inner waterproofing doesn't prevent the outer shell from getting heavily waterlogged, which can be a bitch to dry out without an air-conditioned hotel room.
As for the thermal liner, there's been no occasion to ride into a giant meat freezer to verify its zero-degree insulation abilities, so you'll have to check back here again after our ride to the Himalayas in August. I do love that the thermals are presentable enough to be worn on their own, after you get off the saddle. This makes one less item of winter wear I'd have to pack!
Given that both the rain and thermal liners can be clipped on together or interchangeably under the main shell, the X-Tourer is a triple threat under the sun, rain and chill.
—
STORAGE
Pockets galore! Maybe not enough storage to rob Mustafa, but definitely adequate to keep passports, gloves and other essentials zipped safely away from pickpockets. The rain liner does have a small watertight pocket, but I wish they had extended the waterproofing to at least one of the large front pockets as well.
—
Overall? Dainese makes pricey stuff, but I've had great experiences with the brand's durability and utility over the years. Their 2019 X-Tourer D-Dry packs essential multi-season features to save you from road rash, serious bumps and the weather, with fierce aesthetics to boot. I won't be retiring my light mesh jacket for daily commuting, but on a long adventure, the X-Tourer should perform excellently without weighing you down. This is definitely one piece of gear to hold out for, and it's expected to hit the local Dainese store just ahead of the November/December touring season.