4 motorcycle roads in Northern Thailand that'll rattle your eyeballs harder than MHS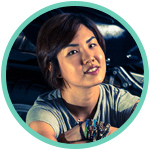 Story & photography by: Cherie 'Anyhowly' Tan
---
Among motorcyclists in our contour-challenged side of the yard, there's been a long-lived fascination with the Mae Hong Son (MHS) loop – some 600km of exuberant asphalt curves around Thailand's mountainous north; 1864 corners, to be exact. In fact, so hallowed is this adventure biker's rite-of-passage, that the Thai tourism authorities have legitimised it with official-ish "Certificates of Completion" and "Been-there-done-that" pannier stickers (all available for a fee at the Chamber of Commerce in MHS town, conveniently over the counter of a very Instagrammable cafe).
Old-timers who recall a time when the MHS loop was mostly gravel and cattle piss may wrinkle their dust-stained noses at the idea of sanitised "adventure". These days, this trophy route is a far cry from the fearsome beast of old; now it's all silky tarmac, saturated with pink novelty cafes, high-pitched Chinese tourists and blonde, gap-year hippies fresh from the Indochina happy-pizza trail.
Oh don't get your platinum touring panties in a bunch – I'm not dissing the famous MHS loop; for all it's tourist trappings, it's still a fun achievement, with an appropriate dash of danger: oncoming truckers, slippery off-camber bends and drunk, reckless backpackers on rental scoots.
I'm just saying that if you have a little extra time and inclination, there are a couple of other roads that you could shake your tail over, sans the packaged tackiness at every corner. The routes in this list are paved – sportsbikers, don't break into a sweat just yet – but have no doubt about it, these be challenging roads that won't suffer fools gladly. Most are not far from Chiang Mai, where the MHS loop begins and ends, so you can easily add them into the same northern pilgrimage. Be sure to start off with a full tank – you'll find no fancy PTTs and Amazon cafes enroute!
—
1) Arunothai to Doi Ang Khang (roads: 1340 / 1249)
Throttle some 50km north of Chiang Dao and you'll arrive at Ban Arunothai, an ex-Kuomintang settlement perched on the Burmese frontier.
With it's own scenic lake, Yunnan-styled walled houses and background hum of Chinese dialects, this isolated little village will remind you of MHS's mega-touristy Ban Rak Thai, minus the angry grandmothers trying to sell you mass-produced tea. Fill up on oily noodles and dumplings before you tackle the 1340 up Doi Ang Khang, but leave tummy space for freshly grilled sweet potatoes that are hawkered at the viewpoint pitstops. Trust me, those steaming carbs are heaven in your mouth above 1,500m.
Get up Doi Ang Khang in December or January, and there's a good chance you'll be treated to the pink fluffy Sakura blooms of your Instagram dreams. The downside: having to jostle flocks of selfie-mad locals. For the love of your sanity, stay away from this mountain on Thai public holidays!
For the complete Ang Khang experience, camp overnight at the military base, where basic tents can be rented for 400 baht. These days there are even private operators offering hot showers (for a fee), and mookata vendors to help you get through the subzero winter nights. You'll be rewarded with an achingly beautiful sunrise and perhaps the experience of having a drunk soldier stick his head into your tent, offering up an amiable flask of home-brewed strawberry whiskey.
Around the Royal Agricultural Station you'll find some of the most ridiculously steep roads in the country, as well as some gnarly dirt trails – which are completely inadvisable if you're astride anything larger than a skinny scrambler or mountain goat.
If you're new to the idea of getting down a hill without smoking up your brakes, you're up for a steep (pun intended) learning curve. The 1249 especially, is known as a car-killer, and many Thais actually prefer to park and rent a songthiew for the treacherous journey up. Grip tight and enjoy!
—
2) Mae Salong to Doi Tung to Mae Sai (roads: 1130 / 1388 / 1149) 
From Doi Ang Khang you could plough northeastwards on the 107 and 1089 toward Mae Salong, a charming section of highlands that's redolent with the scent of tea and Yunnanese cuisine. Here you can chow on seriously lipsmacking pork trotters and snag a photo-op with an Akha hilltribe hottie or two; just be sure to buy a bracelet to put her in a sociable mood first.
Whet your throttle appetite on the twisty 1130 / 1388 up Doi Tung, where you can stop for expensive coffee and admire a fabulous, sweeping monument to the Thai people's hearty flower obsession: the Royal Botanical Gardens (tickets: 90 baht a head).
Don't dally too long among those manicured blooms though; you'll want to leave plenty of daylight for the tremendously fun 1149 that ribbons in and out of Myanmar territory. This narrow ridgeline route sees a goodly share of first-gear action and killer views all the way to Mae Sai. Friendly Burmese soldiers waved us across checkpoints; no passports needed! You'd be pushing your luck with any photography of Myanmar though; language barrier or no, a big waggling gun has an emphatic way of saying Nope.
—
3) Phu Chi Fa and Phu Sang National Park (roads: 1155 / 1093)
You can't be motorcycling in this side of the universe and not do Phu Chi Fa. First off, it boasts a sunrise of apocalyptic magnificence, and second, getting there is a masochist's brutal delight.
Phu Chi Fa Forest Park isn't on most international tourists' radars because it is notoriously difficult to reach by public transport, the guesthouses have no websites and hardly anyone there speaks English. During high season (Dec – Feb) though, when the mountain fog is at its most forgiving, the volume of local visitors spike dramatically. Even so, you don't have to worry about pre-booking accommodation – simply roll up to the Phu Chi Fa town and ask. Don't speak Thai? A basic pantomime and calculator should be able to secure a warm bed and hot shower for anything between 500 – 1200 baht. The truly lion-hearted among you might hazard camping wild, but be warned – it's better to bring your own sleeping bag and suit up well for the grim chill.
You can get to Phu Chi Fa in a couple of hours from Nan or Chiang Rai, over the brilliant 1155 that works you through more twists than a Game of Thrones episode. Some sections are so wretchedly steep that an automatic scooter would probably lose the fight against gravity.
To catch the precise moment when a newborn sun erupts over the horizon, you'll have to stake out a good viewing spot by 5.30am, before the crowds beat you to it. This means that you, intrepid motoadventurer, must saddle up by 4am-ish to navigate the teeth-clenching road to the hiking start-point – in pitch darkness, while it's slick with dew. It's a ride that will jolt you awake like no Starbucks brew can do; which should come in handy for the 30min hike to the summit.
On December 2017 at 4.30am, I stomped toward the peak in my most comfortable pair of riding boots. For company I had the furiously roaring wind and a phenomenal winter night sky so pregnant with constellations that looking up was like falling into a terrifying, glittering bowl.
No time to recover from all that awesomeness; to complete the loop back to Chiang Rai or continue southwards to Phayao, you'll have to ride the intestinal 1093 down from Phu Chi Fa across Phu Sang National Park. Now, did I just hear you say that MHS is for kiddies?
—
4) Doi Phu Kha and Bo Kluea to Nan (roads 1256 / 1081)
If Phu Chi Fa was Game of Thrones, this one's a Micheal Bay movie, with heart-racing curves to excite any lusty throttle wrist. There are no real tourist attractions on this route, so you'll be gunning it for the sheer joy of the journey alone – but what a ride it is!
You could arrive by the picturesque 1148, hailed by many as "Northern Thailand's best motorcycle route", but probably only because they haven't ventured further afield to Bo Kluea yet.
From 1148, turn left for a spell over highway 101, then exit onto the 1081 – 1256 – 1081 towards Doi Phu Kha and Bo Kluea. Like a crazy, wonderful, malfunctioning elevator, this firecracker of a detour careens through a few national parks, punctuating itself with a few "road-in-progress" surprises (a whole lineup of construction workers cheered for us when we crossed sandy gravel and 2 makeshift wooden bridges; we didn't stop for photos).
At some point you'll be flung up onto a ridgeline, probably with a lunatic grin under your lid and foamy spittle on your visor. The views are beyond breathtaking, and the road sees sparse traffic even during the year-end peak season.
This being Thailand, you'll find little coffee joints along roads too remote to even deserve a petrol station. On the 1081 closer to Nan, where the action is about to wind down, there's a great pitstop called "AtlasNan Coffee" (GPS lat: 18.976 / long: 100.966). Cool your wheels and unleash social media envy – over their free wifi of course.
—
At the end of the day, you won't be able to buy a T-shirt that boasts your conquests of any of these routes. But I dare say they'll serve up more thrills than MHS to any tarmac hound.
Know of any eyeball-rattling paved roads in Northern Thailand that could put those in this list to shame? Share in the comments section below!