2018 BMW G310GS: Offroad Review
Here's the funny thing: you could be the hero of your own adventure narrative, but really, what often shapes the plot is your choice of motorcycle. On a powerful, bulky heavyweight, anxiety is likely to keep most of us on milder terrain, reluctant to explore parts unknown.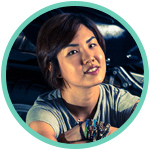 Story by: Cherie 'Anyhowly' Tan
The Gasoline Addict file photography
---
On the other hand, enduro dirtbikes are perfect for slinging dirt, but their hard, narrow seats will rip you a new asshole on the highway. The smaller displacement dualsport bikes of yesteryear (Varadero 125, anyone?) also tended to stick their riders in a sad purgatory of shitty power-to-weight ratios: no fun on tarmac; no fun offroad.
On the subject of "what's the best adventure bike?", I'm always forced to weigh my own physical limits against my appetite for the unknown.
Now, luxury motoring giant BMW is saying they've got their leather wrapped fingers on the adventure touring sweet spot. The 2018 "Baby Adventure" G310GS looks to be BMW's love letter to a overlooked segment of riders: those who want a comfy seat on their way to adventure but hesitate to wrestle with a bulky motorcycle once they get there. "Less is more", they're saying, because there's a difference between "I just want to get back to tarmac in one piece" and actually having fun offroad.
To prove that it's a bike so friendly that even the ladies can handle it offroad, the BMW folks carved up a little obstacle track and invited a bunch of us delicate flowers to put the G310GS through its paces. When I'm old I hope they also invite me to the launch of a bike so friendly that "even ah ma also can". Here's how the bike measured up.
BUILD
Yes, the G310GS is made in India. Now that the elephant in the room has been addressed, let me add that the bike looks and feels BMW premium, even up close to its tubular steel frame. Its 835mm saddle height is less intimidating than the bigger Adventure machines, but still a bit of a struggle for many of the girls. Nothing the lowered seat option can't overcome, though. The seat itself is plush and roomy, which should raise no complaints on long journeys. Other design elements point toward minimalism and economy: An unusually short exhaust pipe confines the catalytic converter neatly inside the end can; the LCD dashboard has none of the usual fancy extras, just handy basics like gear-position, fuel and speed indicators.
The best thing that was conspicuously absent? Sheer bulk. The G310GS holds its 169.5kg full-tank-weight low and front-oriented, and you hardly feel those kilos once you're on the move.
Those cast aluminium rims are quite regrettable though; on rough terrain, I'd surely be missing the strength and flex of spoked wheels. I guess it'd also be too much to wish for 21 inch front wheels, for better offroad control and stability, but at least the stock 19 inch front / 17 inch rear set up will open up more tyre options for the bike.
ENGINE POWER
The 313cc fuel-injected, water-cooled engine puts out 34 horse power at 9500rpm, capable of a claimed 143km/h top speed. Hardly the sort of numbers to set your panties on fire, but what matters is that those 34 ponies are delightfully usable offroad – this puppy loves to be revved hard, yet the power comes on smooth and linear, with no nasty surprises to kick you off the saddle. Is that enough grunt to quickly power you out of trouble in traffic though? We'll need to loan this bike for a longer excursion out of the city to find out (elbow nudge to PML).
HANDLING
Compact, quick and nimble – for its category, the G310GS shines in offroad manoeuvrability. Even the ladies with no dirtbiking experience conquered the mud and rock obstacles with a grin on their faces. Much of that stability must be owed to the rear-tilted, 180-rotated single-cylinder engine which centralizes the weight and allows for a fuel tank that minimizes back-and-forth slosh. Bravo for clever design! The Bybre (Brembo's made-in-India division) brakes offer just the right bite for offroad situations. Also, the ABS feature can be switched off so it doesn't get in the way of fun.
But quell your wheelie-and-jump ambitions. The G310GS is more Nancy Drew than Lara Croft. Its rear suspension is too soft to sling the weight optimally, occasionally causing the front end to feel light and nervous, especially coming up off an incline. The 41mm inverted front forks are non-adjustable, while the rear monoshock is directly hinged with only an adjustable preload. The low-end gear ratio feels a little unsuited for some offroad demands – first gear runs out very quickly, and the second gear fails to deliver enough muscle for certain obstacles. The stock handlebars are also awkwardly low. Have you ever seen a gorilla humping a hamster? That's what I look like, standing on the pegs.
PRICE
As BMW promised, the G310GS is relatively affordable. For just above 20,000SGD on-the-road (excluding insurance), this is one of the lowest hanging fruits in the luxurious BMW motorcycle lineup, aside from its road-oriented sibling, the G310R. The COE at the time of writing is 7114SGD.
—
THE BIKE'S OFFROAD-WORTHINESS, IN A NUTSHELL
What's to love:
– Compact, nimble, stress-free handling offroad.
– Decent power-to-weight ratio
– Smooth, linear engine with no nasty surprises for a novice rider
– Comfortable seat and saddle posture
– Street and light offroad versatility
– Attractive price tag for its brand pedigree
What could be better:
– Cast aluminium rims
– Awkwardly low handlebar
– Soft suspension
Okay, nobody's going to buy this bike for a hard enduro race, but to be fair, that isn't what it was designed to do. For "Adventure, Lite", the G310GS definitely delivers.
WHO'S IT FOR?
I can see the G310GS winning over new motoadventurers who want some fun in the open, hard-packed dirt routes of Thailand, Laos or Cambodia, and don't mind taking a little longer to get through Malaysia's North-South highway.
For more seasoned riders, the "Baby Adventure" right out of the box might not deliver the perfect level of awesome, but we hear there's already an aftermarket Rally Raid kit that can remedy that.
In any case, the G310GS offers another strong option for restless souls who have places to go and detours to explore.