Not all Overland Travellers are 'Ang Mohs' – Overlanding feats by Singaporeans
Story & photography by: Juvena Huang aka The Wandering Wasp
When I first voiced my plan to ride to Europe, citing the overlanders I met, a very common response I received was, "They can do it because they are 'Ang Mohs' (Caucasian). Our societies and values are different."
While true to a certain extent, the strong familial ties and obligations in an Asian society could make exploration seemingly an irresponsible move. With pragmatism so ingrained, forsaking security and comfort in Singapore to venture into unknown lands can be deemed insensible and insane.
My 27 months overland ride from Singapore to Europe on a Vespa scooter may seem like a very atypical move, especially for a Singaporean. I am definitely not the first or one and only. Unbeknownst to most, there have been many Singaporeans who explored foreign lands on their wheels. Yes, Singaporeans can be an adventurous bunch! We just do not hear enough of them.
Here, I want to highlight the Singaporeans who packed up and paved their overland adventure.
Mark Ong & Kim Vegter – Singapore to London on Lambretta Scooter
In 1961, Kim Vegter and Mark Ong travelled 13, 000 km from Singapore to London over land — by scooter!Zafarin Sarifi…

Posted by irememberSG on Wednesday, 4 June 2014
Before Singapore gained independence, there was a Singaporean Mark Ong and Scottish Kim Vegter who embarked their overland adventure to Europe on two Lambretta scooters. This adventure story from the early 1960s was almost swept under the rug if not for Sticky of ScooterLab.UK who managed to interview Mark Ong before his passing in 2006. You may read about the story here.
With a deeper search into the Singapore newspaper archives, here is a short article about their misadventure in Pakistan.
Chiam See Tong and Lina – London to Singapore on a Volkswagen Beetle
During his politically active yesteryears, Singapore's veteran politician Mr Chiam See Tong was often seen rallying from his iconic Volkswagen Beetle. Do you know that there is an adventurous history behind that car?
Chiam met his wife Lina, when both were studying in London. During their first date to Karl Marx's cemetery, Lina set her eyes on a Volkswagen Beetle. Chiam bought the 6 months old car, named Herbie, for 3,000 pounds. Towards the end of their stint in London, the couple decided to return to Singapore to start a new life together. Chiam came up with the idea of driving Herbie all the way back.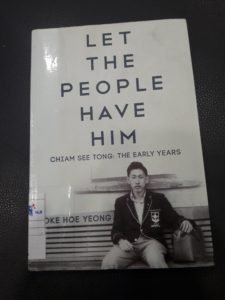 The only preparation for the Volkswagen Beetle was to slap on a better set of tyres. Despite the minimal preparation, Herbie survived the entire journey, even through the roughest roads in the Afghan Desert. Their two months journey traced along the popular Hippies Trail of the 60s and 70s, transversing Europe, Balkans, Turkey, Iran, Afghanistan, Pakistan, India and Malaysia.
The account of this overland journey is included in a chapter of Mr Chiam's biography "Let The People Have Him, Chiam See Tong: The Early Years".
Michael Peter Fong and Sonya – Singapore to The Gambia, BMW R100GS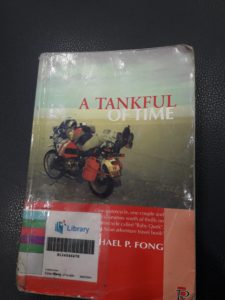 Michael Peter Fong and Sonya quitted their jobs as an advertising director and Cathay flight Stewardess to ride around the world. In September 1995, they left Singapore on their BMW motorcycle, affectionately named Baby Quek, after Sonya's grandmother. At the same time, their journey also raised funds for the Community Chest. After crossing 30 nations, 70,000km, travel fatigue caught up with the couple and they decided to end the trip in The Gambia.  At the end of their 20 months journey, they had raised a total of $100,000 for the Community Chest.
In 2000, Michael Fong published a book about their journey titled "A Tankful of Time". This book is available in Singapore and also Australia national library.
Goh Mia Chun and Samantha – Around the World and back to Singapore on a Honda African Twin
It was "A Tankful of Time" that fed Goh Mia Chun's the idea to travel the world by motorcycle. A self-proclaimed HDB hawker kid in his blog, Goh came from humble beginnings and toiled to make the trip happen. He made the tough decision of putting his thriving landscaping start-up on hold to pursue this dream.
Goh bought the Honda African Twin for that task which was also used to receive his bride, Samantha on their wedding day. The motorcycle was named "Hope" because he wanted to bring hope around the world. For two years, Goh painstakingly prepared the iron horse for the big trip – from customising the saddle for comfort to fitting bespoke crash bars and many other accessories.
Challenges posed itself even before the trip began. Just two months before the set off day, Hope was stolen in Malaysia. Undaunted, the couple bought a second-hand Honda African Twin, called "Hope Too" which cut their travel budget significantly. On 1st January 2008, the couple departed Singapore with well wishers escorting. Not short of obstacles along the way, their journey is one of resilience and tolerance.
What was planned to be an one and half year journey became 2 years 8 months, taking them to more than 40 countries across 5 continents. Goh and Samantha are likely the first couple from Singapore to successfully circumnavigate the globe by motorcycle.
Facebook: https://www.facebook.com/Singaporedream-190847367662901/ 
Juvena Huang – Singapore to Czech Republic, Vespa Scooter
The sudden passing of an intrepid friend a few weeks before his motorcycle trip was the main drive for her to embark on the adventure. Juvena decided on using her existing Vespa scooter – a choice met with doubt and skepticism but it was the most economical one. As her late friend said, "It is the rider, not the bike."
Facing the vulnerability of riding a scooter and being a lone female traveller, her grand plan was faced with concerns from friends and families. While most advised her against going alone, Goh, Samantha and other overland traveller she met were otherwise every encouraging.
"When setting out on a journey do not seek advice from someone who never left home."
— Rumi
On May 2015, she set off from the foot of her HDB block and did not return home until 27 months later. The 44,000km journey brought her to 25 countries and countless of friendships. Below is the 3 video series interview about her adventure and lessons learnt.
Juvena is back in Singapore. She left her scooter in Czech Republic and hopes to resume her journey in 2020.
Surely there are more Singaporeans out there who have covered serious distance on their wheels. If you know any more, please share their stories in the comments below.