Mudslinging in Pahang with the G310GS: Part 1
Two months ago, we had our first date with the debutante BMW G310GS. It went well; nothing exploded and nobody got arrested. We were keen to see her again, in a more exciting context. "Can she hold up over a proper adventure?" we asked official distributors Performance Motors Limited, and they said, "CHALLENGE ACCEPTED".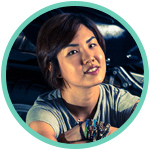 Story by: Cherie "Anyhowly" Tan
Photography by: The Gasoline Addict
---
So we've scored ourselves a second date; something of a polite gangbang really, because a couple of us will take turns in the saddle for a good mix of opinions. And this is a ride that has everything: highways, B-roads, mud, sand, river crossings, urban traffic and village detours. There's no guarantee that persons or machine will emerge unscathed, but the G310GS will certainly have ample opportunity to prove its Bavarian mettle.
We're pointing our handlebars at Sungai Lembing, a bucolic tin mining town in Kuantan, some 400-ish km northeast of here. This won't be the first time we're terrorising that hapless little kampong with waterfalls, durians and roast pork on our minds. It began in 2014 with a handful of bikers craving a weekend's escape from the city's clutches. Since then, Lembing has become a riotous annual tradition. This year the ranks have swollen to more than 30 bikers, with a real motley crew of machines.
In a crowd, the G310GS pulls its fair share of eyeballs with its unmistakable GS lineage. It's a conversation starter at traffic lights, with many other bikers curious about BMW's littlest trooper that carries a large presence.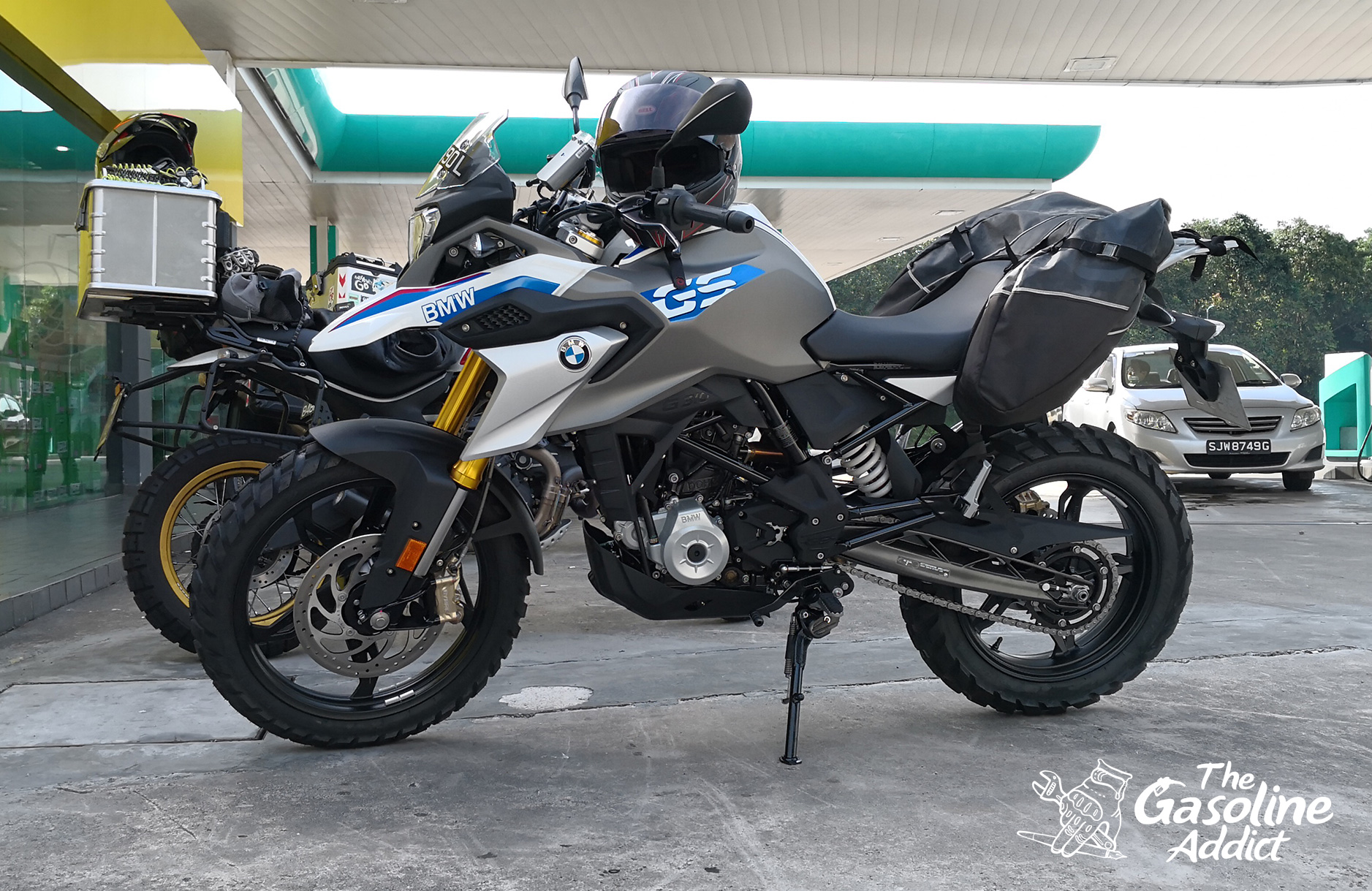 In fact, the "baby" beemer is far from pocket-sized. A wide plastic girth over an 11-litre tank echoes the brawny build of the larger GS, and the 83.5cm seat height keeps all but the leggiest of riders on tiptoes. Climbing into the saddle is a challenge for diminutive riders, and they struggle to kick up an exasperatingly long and awkwardly-placed side stand.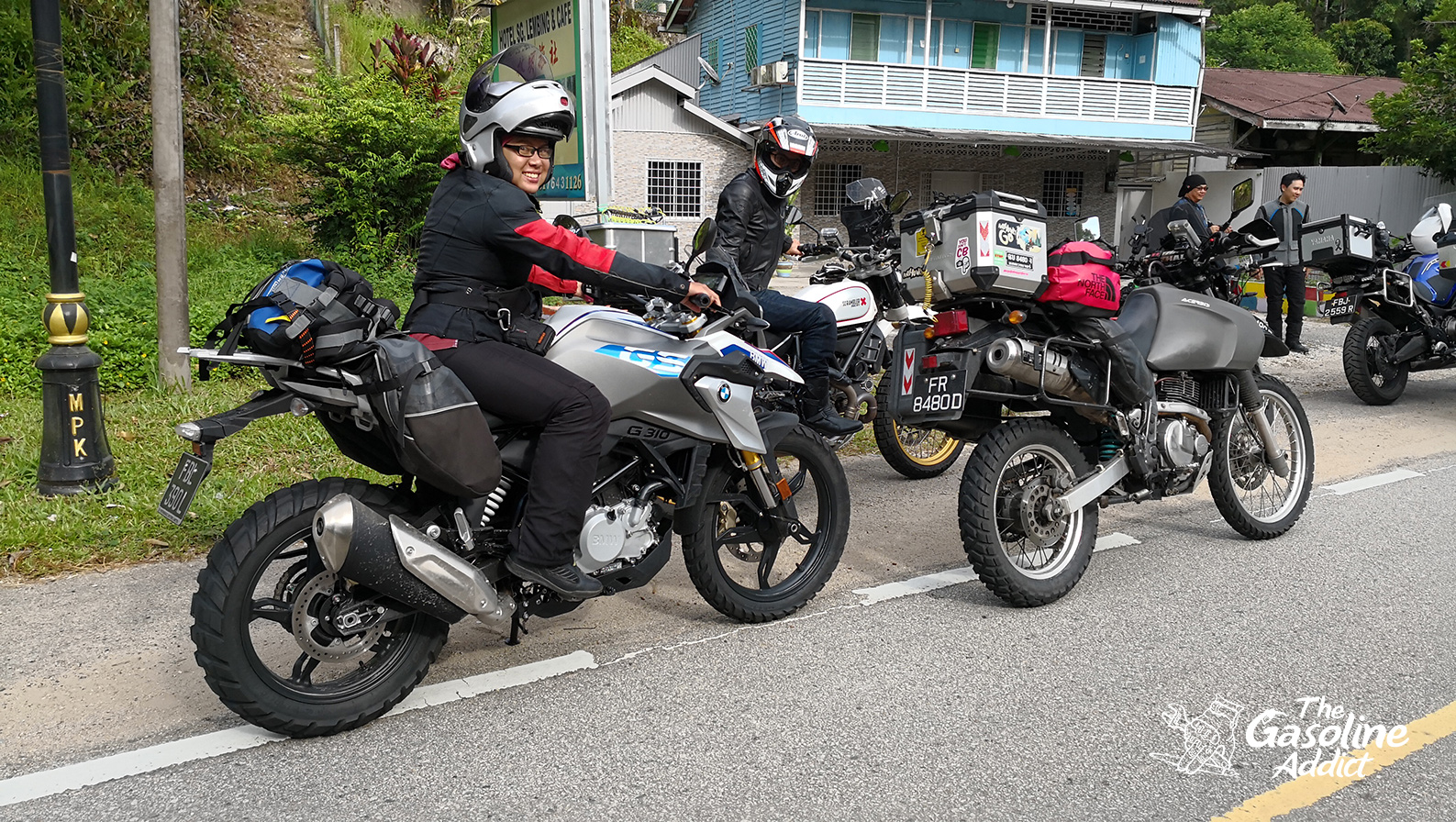 The bike comes with a prosperous rump rack that makes luggage-strapping a breeze. We throw on a Giant Loop Coyote, good for a weekend's worth of underwear, and are all ready for some horizon chasing!
—
HIGHWAY
We are prepared to be underwhelmed on the highway. This is after all, a 313cc single-cylinder machine that barks out a humble 34hp. As we swing out with a freshly filled tank, I am beset by flashbacks of the first time I ever struggled up the North-South to Thailand. It was on a 125cc Derbi and it took 12 hours, 5 coffees and 1 pitstop nap just to get to Penang.
For a start, gear shifting is light, smooth and certain, although neutral can be elusive and the clutch biting point is a real stretch away. Ploughing quickly through all six gears, we discover that the G310GS labours at speeds above 110kmh. It's most comfortable cruising at about 95kmh. The gearbox seems happiest between 5000 to 6500rpm, but past 7000rpm, you'll have to contend with an uncomfortable buzz on the bars.
Okay, so the bike is no high-speed freight train, but those 34 horses still pack a punchy personality. The general consensus is that the G310GS pulls impressively for a Class 2A machine. There's even enough sixth-gear grunt for snappy overtaking at 110kmh, numb fingers notwithstanding.
On ergonomics, the jury's divided. The low handlebars force a hunch out of taller riders, which quickly takes a toll on the back and shoulders. No such complaints from riders shorter than 1.6m. The pygmy windshield does a surprisingly good job at keeping bugs out of your teeth, and the broad, firm seat is friendly to backsides plush or bony.
Wallet-watchers will be relieved to note that the G310GS is not greedy at the pump. Chugging along at 90kmh, we manage a modest fuel consumption of 30km/l, which spares us from any more petrol stops before it's time to swing off the highway.
—
B-ROADS
Forget the power play. It's the crisp throttle response and nimble handling that makes the G310GS a funhouse on the small roads.
Compared to its 1200cc bigger brother, this is a grounded, lightweight pony with a bare-bones dashboard and unintimidating grunt, so even less experienced riders won't think twice about flogging the throttle. Well good, because the G310GS is rev-happy, just like many other sub-400cc bikes. In fact, we find that the engine has a tendency to stall if you don't gun up the revs before moving off.
With a compact wheelbase and 810mm-wide handlebars that are more dualsport than street, the G310GS is a joy to slap around corners. At mid-speed, the engine feels ridiculously smooth for a single cylinder, although fans of the single's signature guttural thump won't be impressed by the mini beemer's quiet purr.
For the second time since the bike's launch demo, we bemoan that the suspension is a little too soft, and the non-adjustable inverted forks tend to dive under heavy braking. Still, the ride is fairly linear and predictable, and there's no wallowing about on bumpy sections of tarmac.
When we hit a snarl of traffic, the G310GS scores more points for comfort – the reverse-mounted engine allows the exhaust pipe to exit from the rear, which means no hot metal header in front to cook your shins. Our minds are blown; could this mean the end of crispy leg hair in the rush hour commute?
—
GENERAL ROAD VERDICT
Speed hounds be warned, there isn't enough raw power here to inspire hooliganism. But if you're NOT after a loud, fast bike for showing off on the highway, then congrats, you probably don't need to compensate for a small dick, and can enjoy a more engaging experience on the B-roads and urban corners with the svelte G310GS.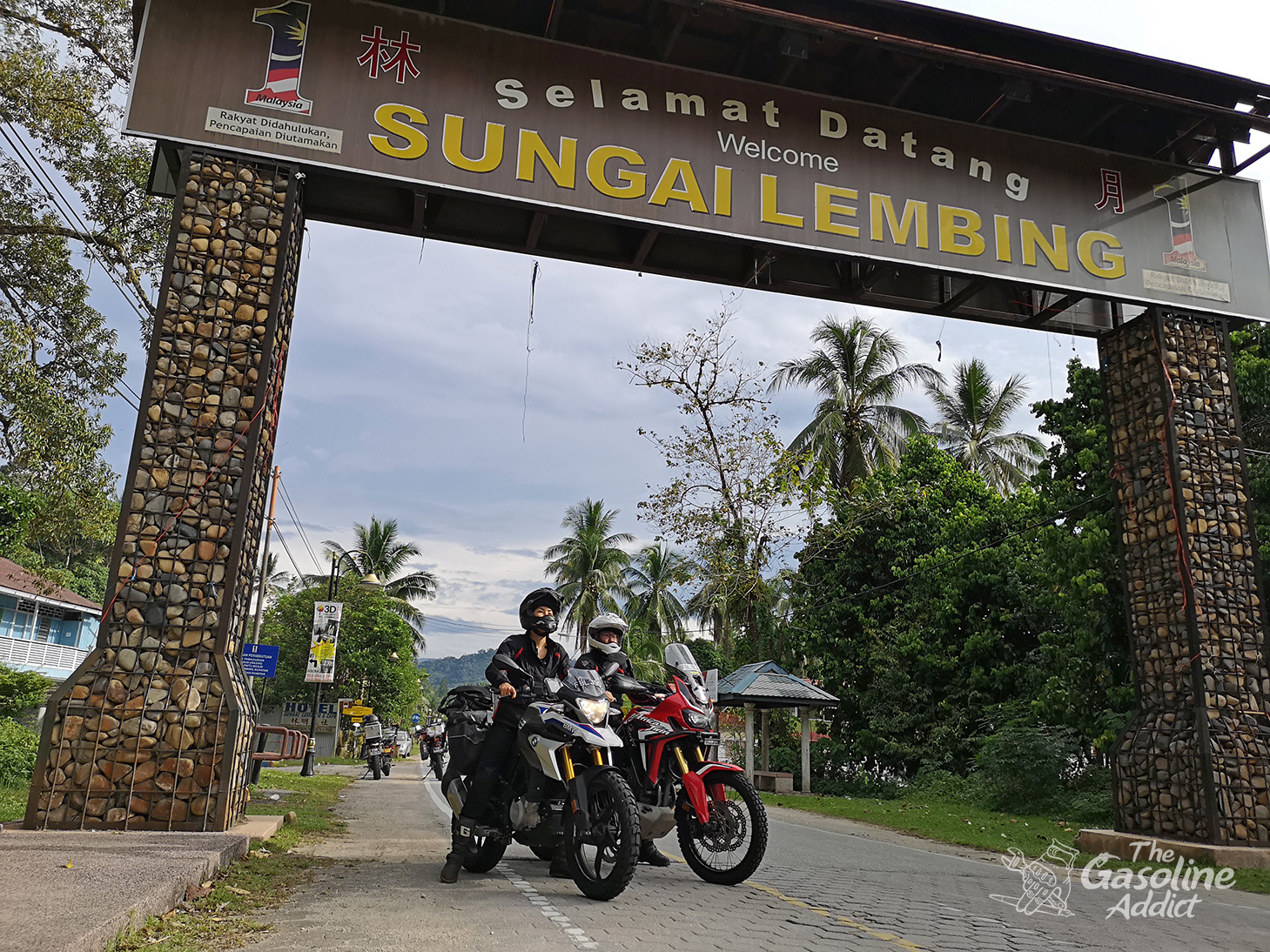 We're now deep in the scenic nowheres of Malaysia, where adventure is only a throttle blip away. Watch this space for part 2 of the ride journal, where we abandon tarmac for a proper dirt baptism of the G310GS.