How to Ride a Foreign Motorcycle into Singapore
Ah, bureaucracy, bureauCRAZY. That has got to be one of the top kill-joys of any motorcycle traveller whose adventure spans countries. Dusty moto-panniers well-stickered with flags may seem glamorous, but the border crossing experiences are usually anything but. And here's no surprise – Singapore is one of the gnarliest countries in the world for a foreign vehicle to travel into.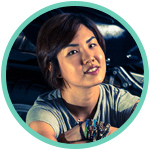 ---
If you've ever wondered why we hardly spot any foreign-plated motorcycles on this little red dot, other than the ubiquitous Johorians and the occasional Thai, it's because getting them onto this side of the causeway is a truly hairy tangle of exhausting legwork and expensive paper pushing.
The border crossing process is much less punishing for motorcycles registered in Malaysia and Thailand, because those don't require a Carnet de Passages en Douane (aka Carnet), which is an international customs document for vehicles. For motorcycles registered anywhere else in the world, the rider will actually have to leave them in Malaysia for up to one day, while they enter Singapore first to sort out the vehicle entrance permits.
We usually advise our globe-trotting motoadventurer friends to garage their bikes in Malaysia while they tour Singapore by public transport – our country is compact and well-connected enough, for sure. But for the hardy and headstrong who insist on rolling their wheels onto Singaporean soil, we've put together a handy instructional chart on what needs to be done. Note that the process is only for overlanders; bringing motorcycles in and out of Singapore by air freight or ship is a whole different ball game!
Travellers, if you are riding into Singapore from Malaysia for the first time, it's best to get started at the Tuas or Woodlands border early on weekday mornings, because the Land Transport Authority (LTA) office is only open from 8am to 5.30pm from Mondays to Fridays, excluding public holidays. By the time you've readied all the documents needed for your motorcycle to get stamped in, the rush hour border jam ought to have eased. To reduce hiccups, prepare Singapore cash for payments, ensure your visas are in order, and that your passport is valid for at least another 6 months.
Also, we'd like to point out that if you plan to use the Tuas checkpoint, the exit on the Malaysian side will require a "Touch 'n' Go" toll fee. If you have no Malaysian "Touch 'n' Go" card, head for the Woodlands checkpoint.
On the bright side, at least there's no bribery to be expected here, and our Singaporean border officers speak English, that good ol' lingua franca of the modern world. You won't even need to wear nice underpants, because there's no chance you'll have to strip and do squats. Here goes:

Useful Links:
1) Calculate road fees for your visit
2) Toll zones in Singapore – the Electronic Road Pricing (ERP) system that requires the rental of a toll deduction unit for the foreign motorcycle
—
How to exit (gracefully)
If you've made it across, congratulations and welcome to Singapore! Have a few durians and a Tiger beer to celebrate. When it's time to leave, you'll still have to wade through some exit procedures, but it's much less convoluted than entering.
First, ensure your Autopass card has enough credit to cover your outstanding road fees. You can top up the Autopass at most petrol stations and 24-hour 7 Eleven convenience stores. Ride to Tuas or Woodlands checkpoint and pay your fees using the Autopass card reader at the immigration booths. Since the Autopass is registered to your motorcycle, it'll be blacklisted from returning to Singapore if you forget to tap out!
After you process your passport, stop by the same LTA office that you visited on your way in. Ask any border officer for directions. At the LTA office, stamp out your Carnet and return the rented IU unit if you have one (they will inform you that the S$124.65 rental deposit can only be refunded into a Singapore bank account, to which you might experience frustrated disbelief, and then we will tell you, "we told you so").
When all that's done, throttle back into Malaysia with a lighter wallet and heavier bragging rights!
*The information in this article is valid as of 26 July 2018. For the most current updates, visit the LTA website here.