Destination Himalayas: Fancy tackling some of Earth's highest roads on a Royal Enfield?
50 million years ago, the Indian continental plate violently suckerpunched her Asian neighbour, spewing up the most gargantuan mountain range on the planet. Broad swathes of the still-growing Himalaya peaks dominate Ladakh, the largest district in India's northern state of Jammu and Kashmir. It is amid their devastating beauty and harsh environment that you'll find some of earth's most dangerous roads – making Ladakh an irresistible mecca for adventure motorcyclists the world over.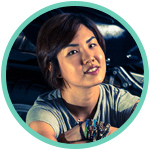 Story and Photography by: Cherie "Anyhowly" Tan
---
Adding to the lure for those short on time and funds, India is a budget-friendly fly-and-ride destination. With just 2 weeks and a little over 2,000 SGD (including flights), you can have an experience to talk about for years to come. Of course, you could do it all for less, if you arrange your own motorcycle rental, accommodation and entry permits. We chose to roll with the local know-how and cultural insight of an Indian tour agency, which put together a hassle-free package including lodging, most meals, basic high-altitude medical care, all permits, airport transfers, bike rentals, fuel, a support truck, accompanying mechanic and a 14-day customised route across the scenic wilds of Ladakh. Pricing was pegged to group size. With our pack of 10 riders, individual participation fees came up to 73,500 INR (1,437 SGD). A return flight to New Delhi on Singapore Airlines cost 360 SGD, while a domestic Leh-Delhi flight on GoAir was 160 SGD. Sounds good? Here's more of what we learnt.
When to go
The summer riding season in Ladakh runs from mid-June to late September. By early June, the region comes abuzz with tourist facilities; lakes begin to thaw and the mountain passes are cleared of snow, but remain treacherously awash in melted slush. From August into mid-September, the monsoon sweeps in at full fury, dressing the valleys in mild rain and the peaks in an occasional velvet of fog. Landslides are common, and you can count on dramatic water crossings. As September winds down, the tourist hordes retreat and the skies dry up, but temperatures begin to fall into an autumnal chill. Locals prepare to hunker down for winter and many travellers' facilities like food stalls and campsites will be closed by October.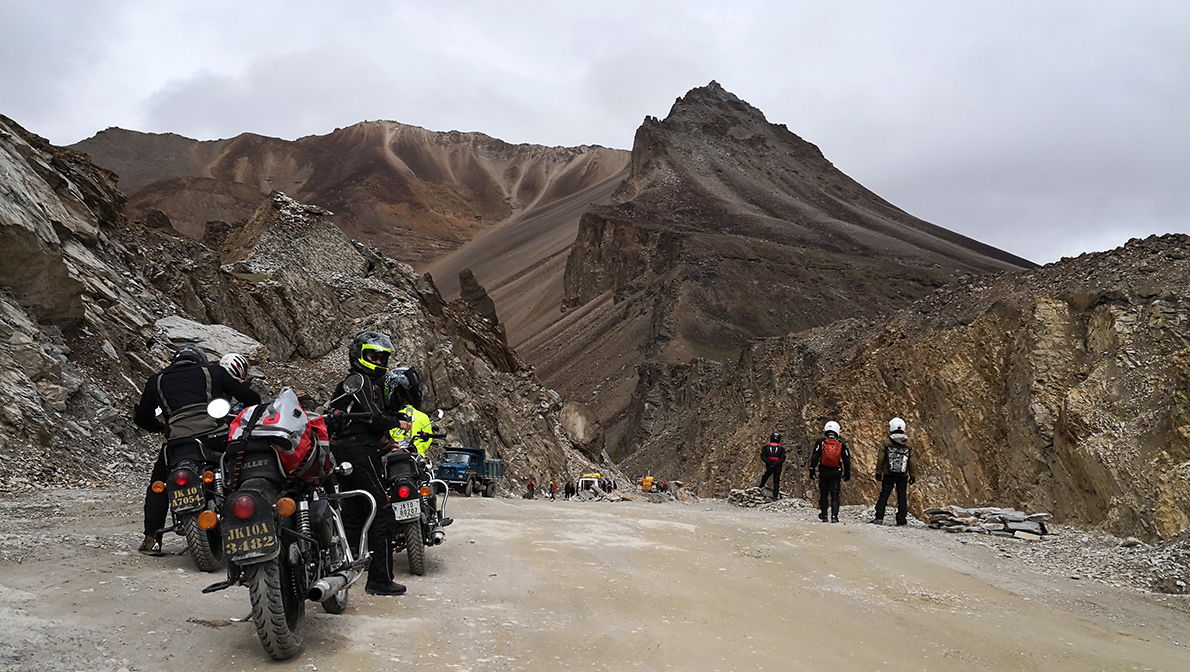 Before you go
A few weeks before you set off, update your vaccinations against Hepatitis A, B and Typhoid. Polyclinics will do this at the lowest cost. At the same time, get a doctor's prescription for Diamox or any equivalent altitude sickness medication, which you can pick up from most local pharmacies. Alternatively, you can also buy Diamox easily over the counter in Manali or Leh. Load up aggressively on probiotics; they will probably spare you a bellyful of grief from water-borne bacteria.
Packing essentials
Your own helmet. In the rural mountains we saw locals riding without theirs, but they usually had some formidable combo of turban + beard that possibly delivered an insulating force field.
Bandana or face shield to keep the dust and dry air out of your lungs. By the second day of riding alongside army trucks, my nose felt like the world's most tortured vacuum cleaner.
3-season riding gear with impact and abrasion protection, as well as easily removable layers to keep you comfortable in piercing heat, abrupt rain and single-digit chill. Don't skip the zero-degree thermal liners. I wore the Dainese X-Tourer jacket (reviewed here).
Waterproof boots and gloves. Plenty of water crossings that you'll be liable to stick your feet down into!
Sunblock of at least 50 spf, sunglasses and a hat. On a clear day at high altitudes, it'll basically be like walking around under a giant UV magnifying glass.
Sturdy tie-down straps to keep your water and essentials securely on your bike. We lost countless bottles of water, and some stretches of the route were so relentlessly rocky that one bike's exhaust pipe fell off. This is also why it's a better idea to have a support truck ferrying the bulk of your luggage.
Singapore driving license for permit applications. We didn't need an international driving permit.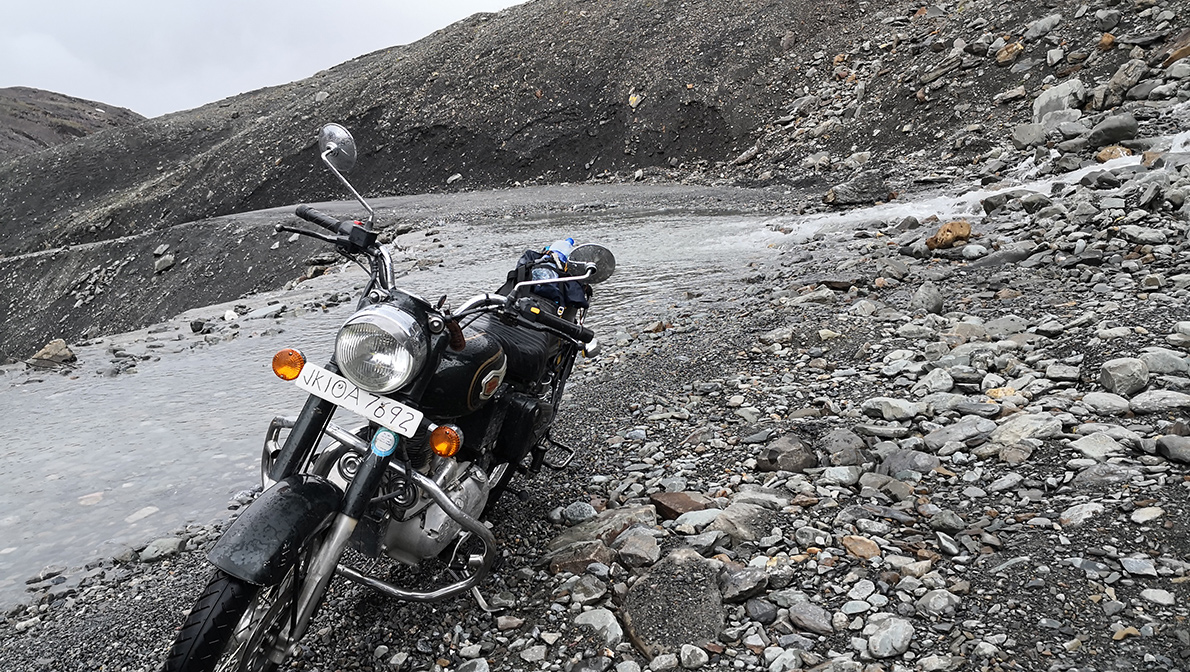 How to get there
Our bike rentals began in Manali, a resort town in Himachal Pradesh, just above the foothills of the Himalayas. There are direct flights from Singapore to Delhi's Indira Gandhi International airport, from which you'll have three main ways to get to Manali:
A) Take a domestic flight to Bhuntar airport, 50km away from Manali, followed by a bus or private taxi. However flights are irregular, expensive and often affected by the weather.
B) Train up to Chandigarh, then take a bus or private taxi to Manali.
C) The cheapest but arguably most straightforward and reliable option: endure an excruciating 16 to 20 hour bus ride from Delhi to Manali. It's a 570km journey, but mountainous roads are rewardingly picturesque and you can stretch out on overnight luxury coaches.
Or, simply get on a domestic flight from Delhi straight to Leh, Ladakh's capital city, and base your ride from there. It is also possible to rent your bikes right from Delhi, and ride north to Ladakh, if you can stomach the nightmarish city traffic.
The rides
Sure, there are plenty of options in the wheels-for-rent lineup, but you just can't separate the Royal Enfield from the quinessential Indian experience. An iconic legacy of the British, the Enfield's Bullet line has been produced continuously in India, largely unchanged, since 1955. By most modern bike standards, this puts it in an impressive state of arrested development – pretty much the mechanical equivalent of a Neanderthal. Still, the locals swear by the Bullet 500's do-it-all robustness, and offer it as standard-issue for most riding tours.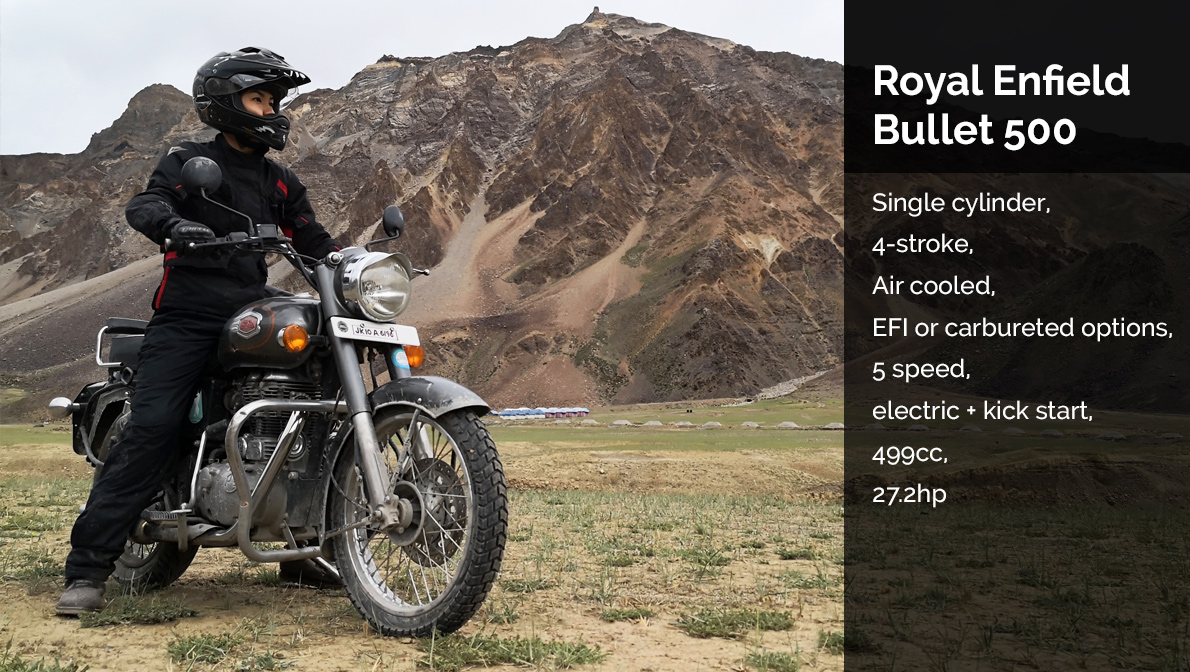 Pros:
Cheap to rent, cheap to fix.
Reliable simplicity that takes well to roadside repairs.
Spares are easily available, and you might even pick up pieces of someone else's Bullet that got shaken off along the way.
Non-intimidating seat height, low-slung weight and mild, stoic engine that will plough through all obstacles like a tractor.
Cons:
Suspension is woefully inadequate for the rough terrain. After a full day in the saddle, every rock feels like a punch to the kidneys.
Power-wise, pretty limp for a 500cc. If you really wring out the throttle you might smell 120km/h downhill, but it'll be a slow crawl up the speedometer. The low-end grunt is barely enough to chug uphill.
Ergonomics are awkward at best. Sitting, it's a slight hunch over the handlebars, and there's no comfortable way to stand on the pegs while offroad.
Don't count on the rear drum brakes for stopping power. Engine braking is pretty decent, though. Remember not to grab at the front brakes over soft sand!
Prone to hitting neutral gear unexpectedly over rocky ground, likely because of its heel-plus-toe gear shifter that isn't very accommodating to enduro boots.
Thin throttle grip will leave you with blisters, gloves regardless. It helps to bring your own throttle rocker!
While that looks like a long list of grumbles, it's not hard to be charmed by the Bullet 500's indomitable, easy-going nature. It grunted through terrain that would daunt many riders on larger modern adventure bikes, and its carburetor heart never failed to chug alive even on frosty mornings above 4,000m altitude.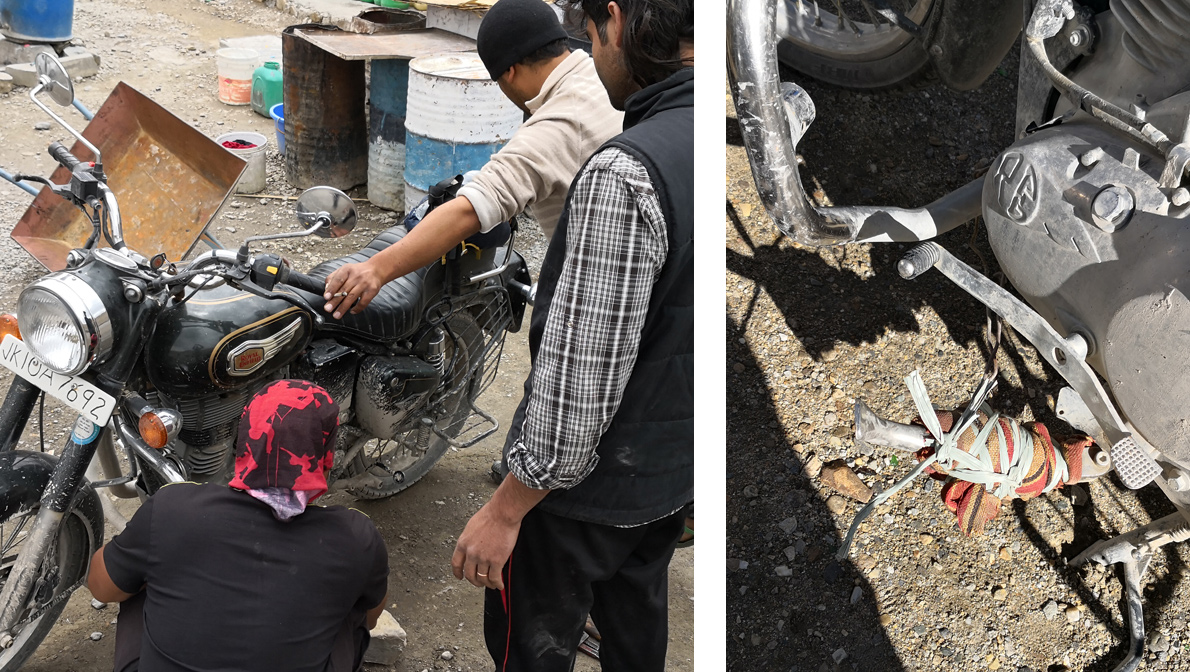 A whole different beast is the relatively new Himalayan, Royal Enfield's first stab at the dual-sport category, which offers significant improvements in ergonomics, suspension and brakes for a more comfortable off-tarmac ride.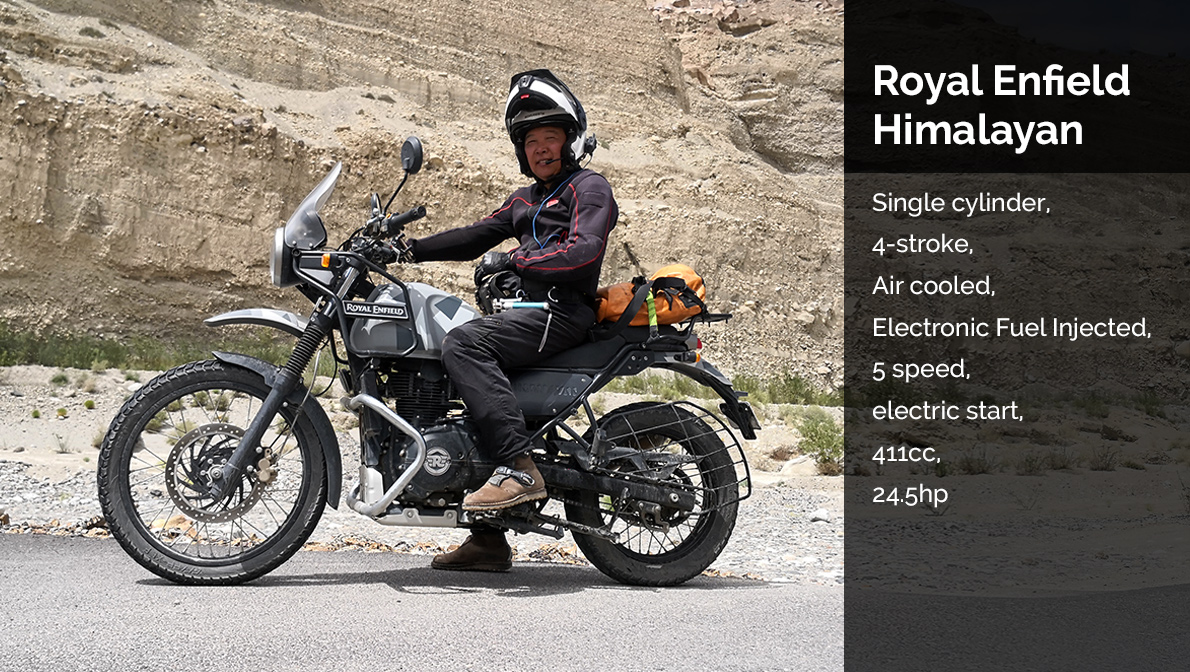 Pros:
Upright enduro-style riding posture and nimble handling for reduced rider fatigue.
Rear mono-shocks soak up gnarly mountain roads instead of pogo-sticking like the Bullet 500.
Low seat height still allows nervous riders to foot-down easily.
Pretty buzz-free at low-to-mid speeds, for a single cylinder engine.
Cons:
Rear disc brakes are a comparative relief, but still no ABS.
Painfully underpowered for its 191kg bulk. A 411cc engine barking out only 24hp means you'll lose steam on steeper inclines and struggle to touch 120kmh on the highway. Worse still, if you pack it with luggage!
It's a little pricier to rent the Himalayan instead of the Bullet 500, and parts aren't as easy to find on-the-go, but your back and bum will appreciate the upgrade. We say, go for the Himalayan if you plan to spend more time off the tarmac, like us. You wouldn't miss a high-performance engine in the sort of mountainous rodeo you'll be riding anyway.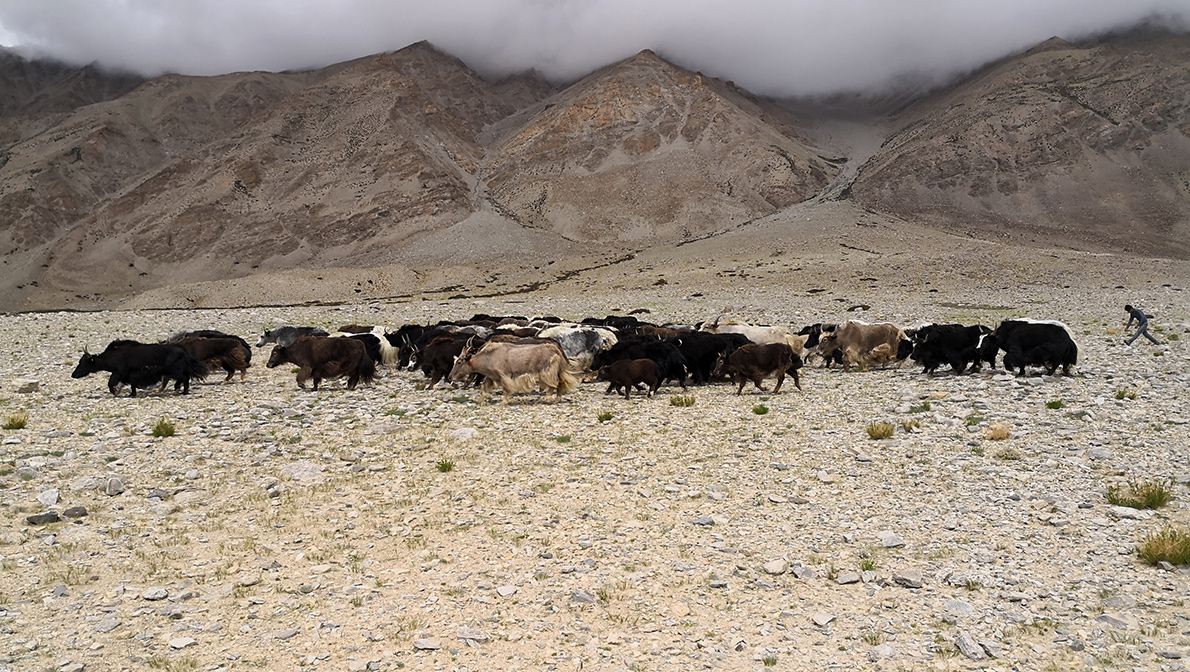 Where to go
Our route meandered from Manali to Leh and northward, taking in monasteries, high-altitude lakes, sand dunes and exotic villages seemingly untouched by time. Even if you consider yourself a competent rider, the broken roads, relentless cold and oxygen-poor air will add a new edge to mundane activities. Speak to your tour agency to customise a route to suit your level of riding confidence. Here are some of our favourite check-ins:
MANALI AND KULLU VALLEY
This trekking paradise in the cool foothills of the Himalayas is a hotspot for Indian honeymooners. Soak up the alpine scenery at Ride Inn, a boutique motorcycle-themed cafe and guesthouse that serves magnificent Himachali cuisine and sweet bites from its own apple orchard. Godwin, the owner, is a valuable resource of tips on bikes and routes.
From Manali, Rohtang pass (3,979m altitude) is the gateway to Ladakh that's passable by vehicles for only 6 months a year.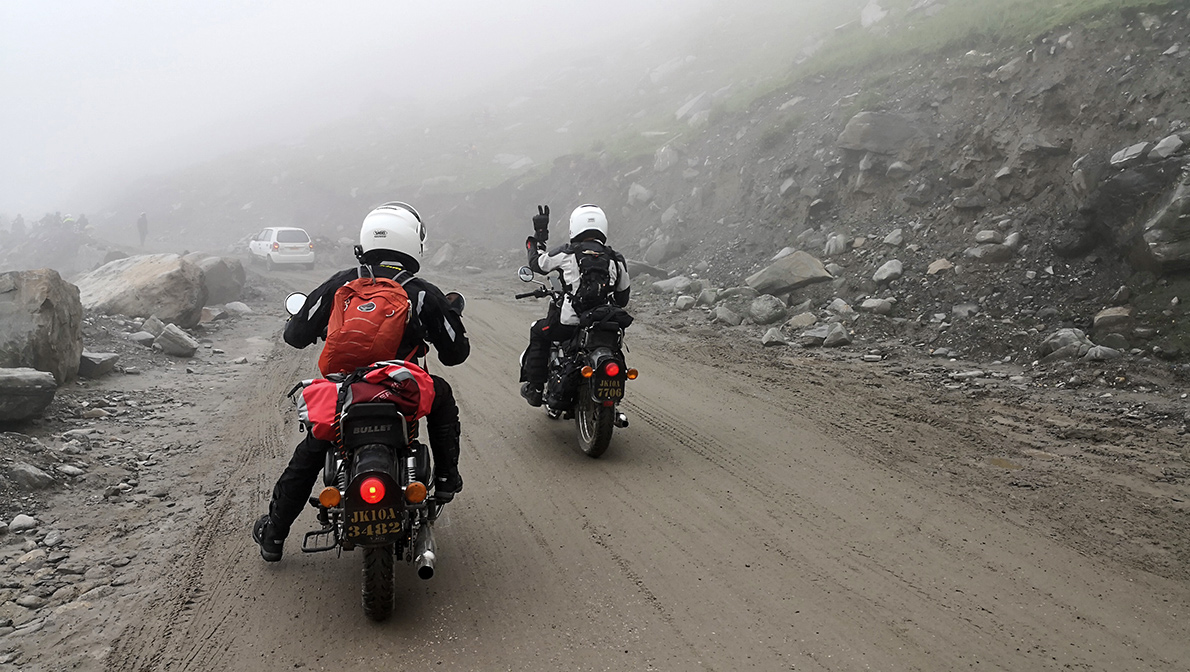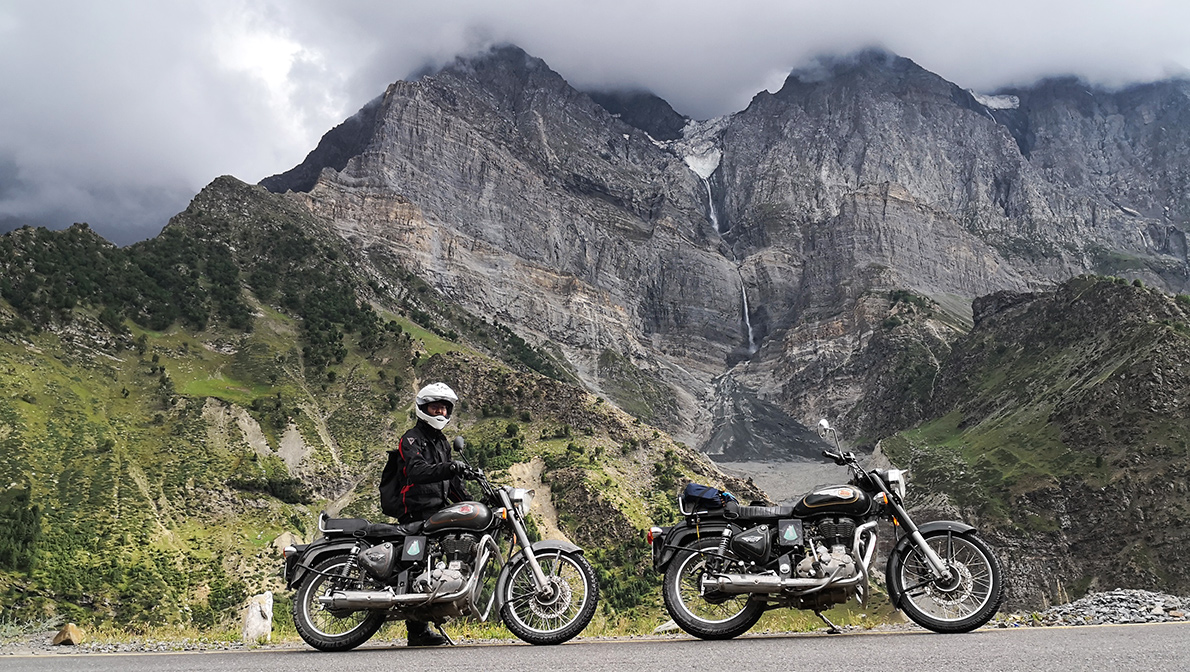 SARCHU
Lush greenery gives way to desolate desert grandeur at Sarchu, a campsite stopover at 4,290m altitude, just before the boundary of Jammu and Kashmir. The moon crater geography is especially stunning at sunrise, and it's also probably one of the best places on earth to star-watch. Summer night-time temperatures plummet close to zero, so get ready to bust out the thermals!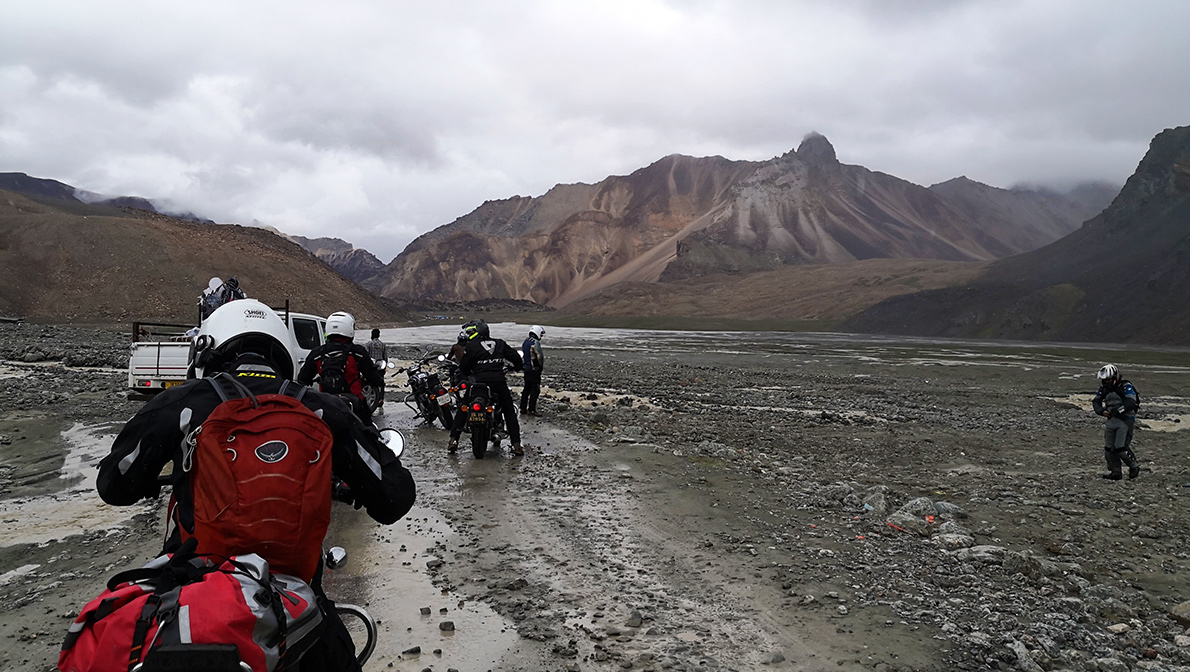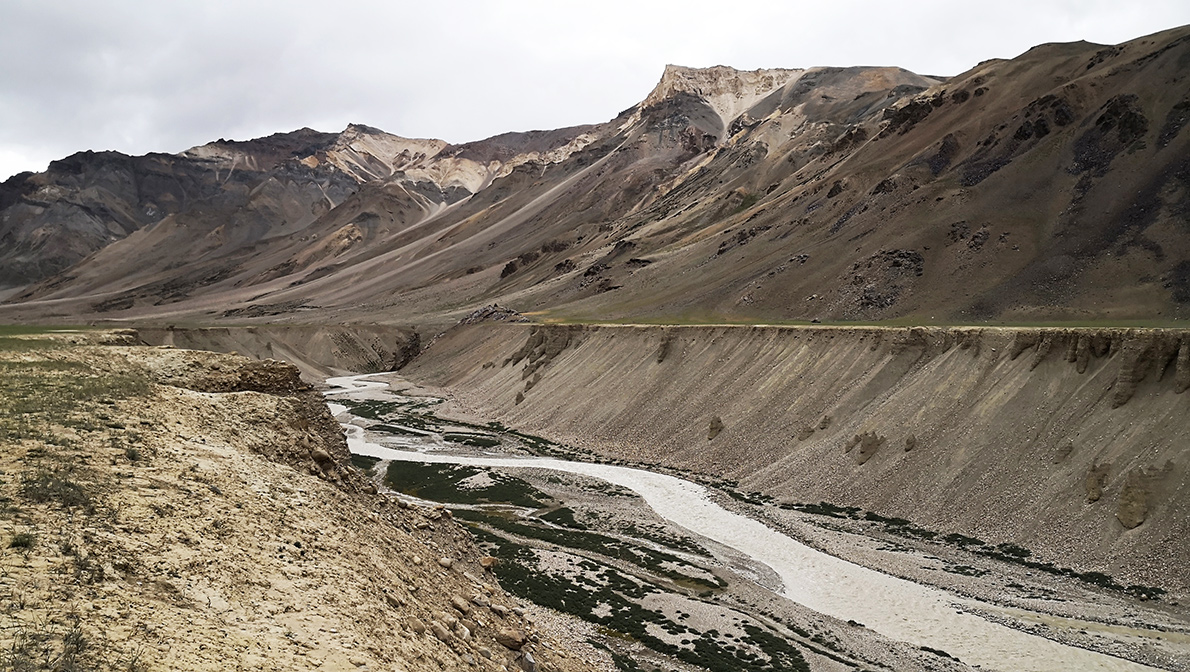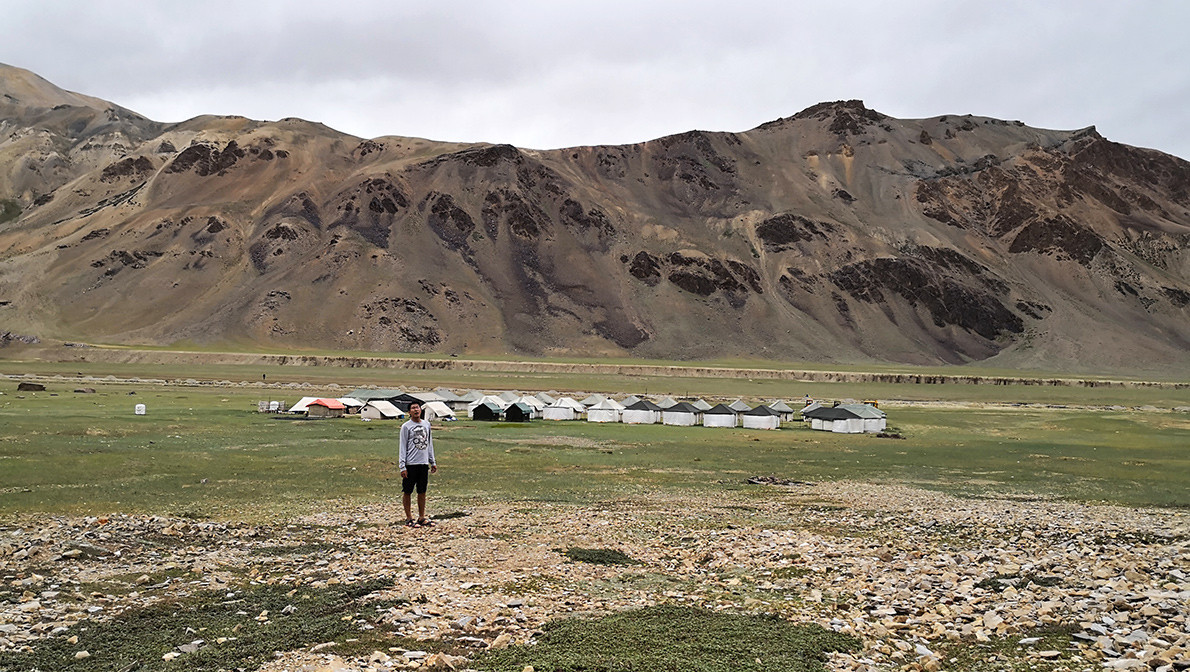 LAKE TSOMORIRI
Tsomoriri's otherworldly beauty is sweet reward for the rugged journey there, which will take you across the Nakeela and La Chungla mountain passes, followed by a brief respite on the pancake tarmac of the golden-green Moore plains. At 4,522m altitude, the lake and its undulating peak-backed shores are home to rare black-necked cranes and Himalayan marmots.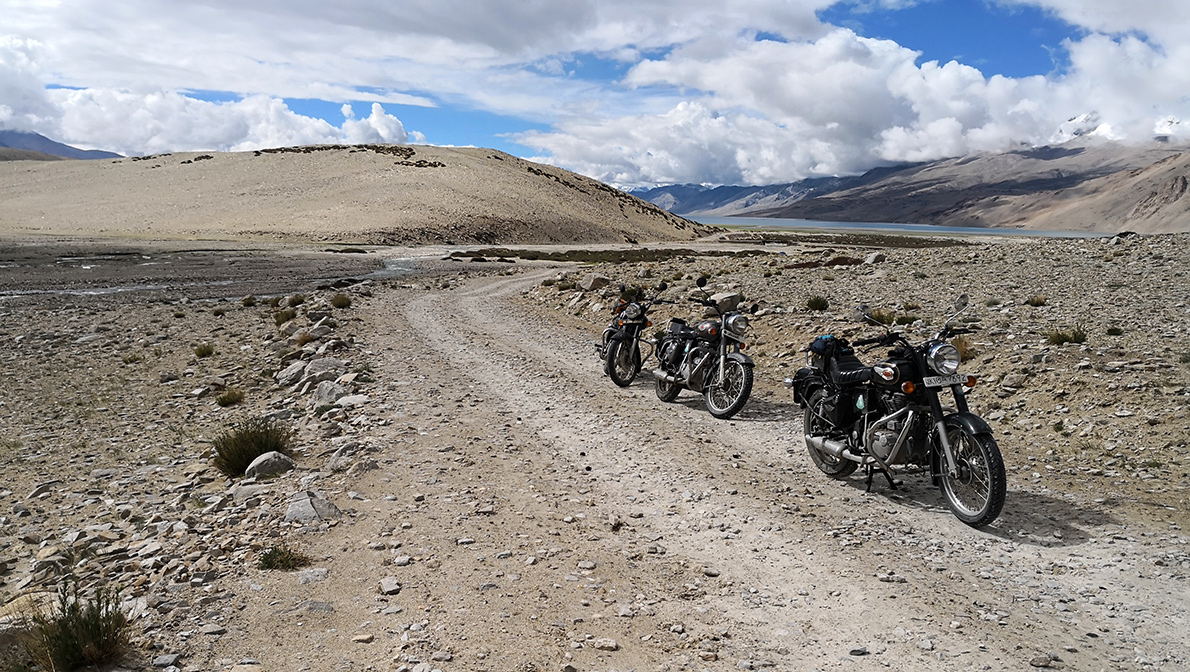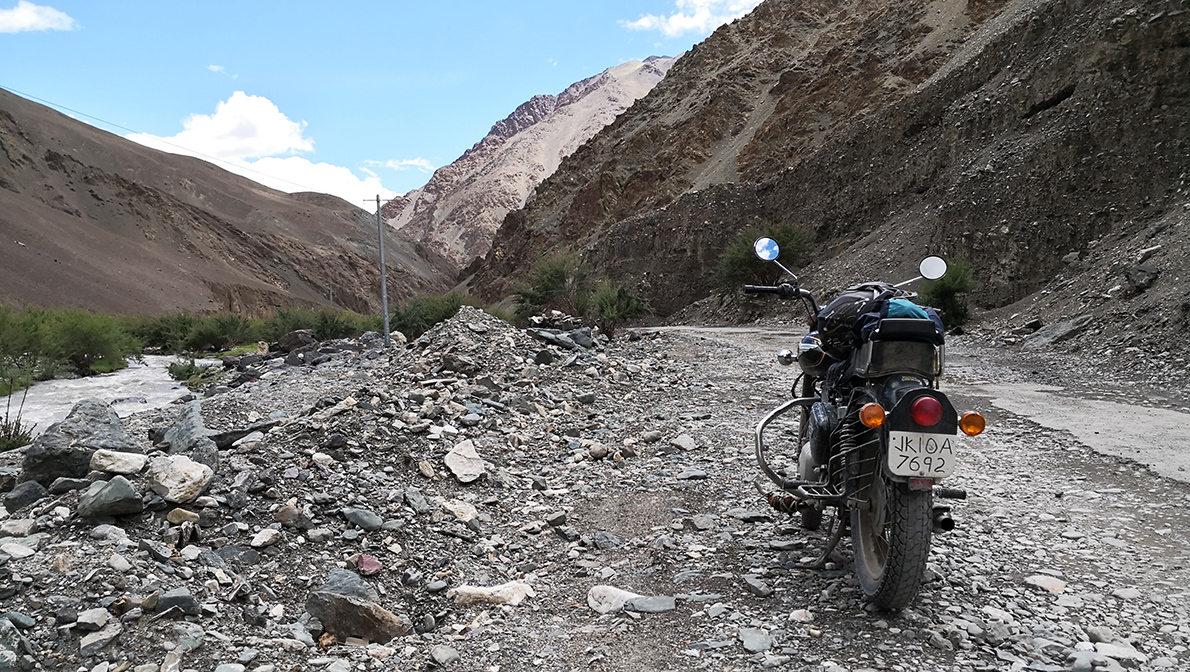 NUBRA VALLEY
Rolling sand dunes alongside gurgling streams and verdant fields, under vast snow-capped mountains? This surreal scene comes alive at Nubra valley, where you'll also find double-humped Bactrian camels and the oldest Tibetan monastery in Ladakh.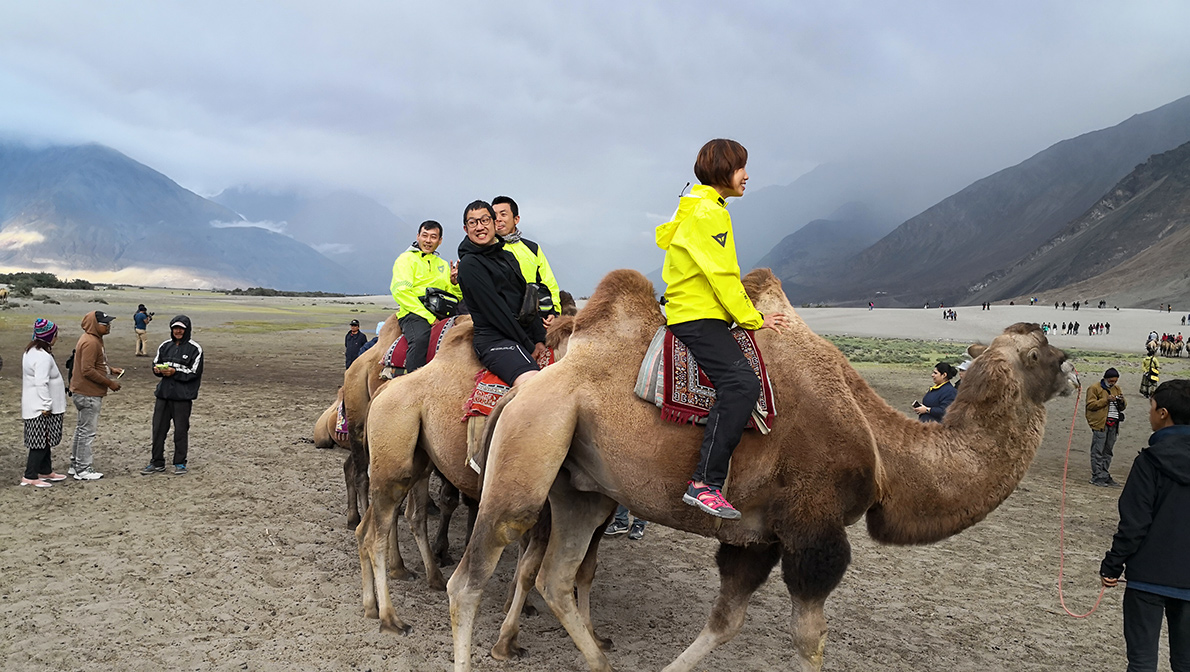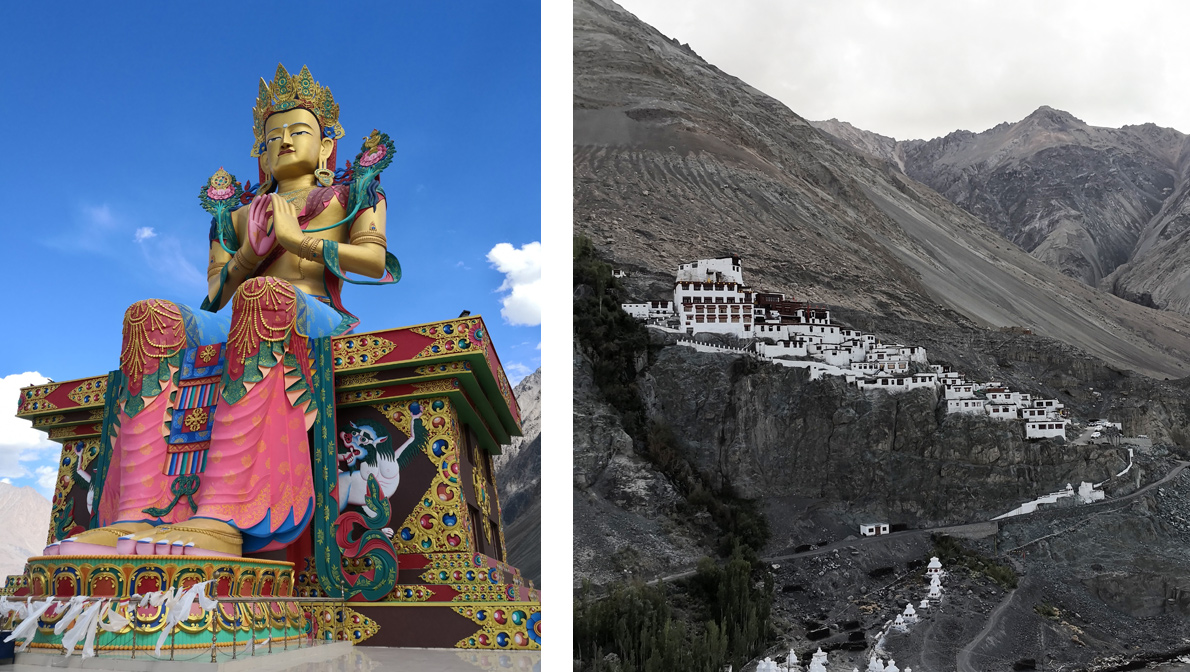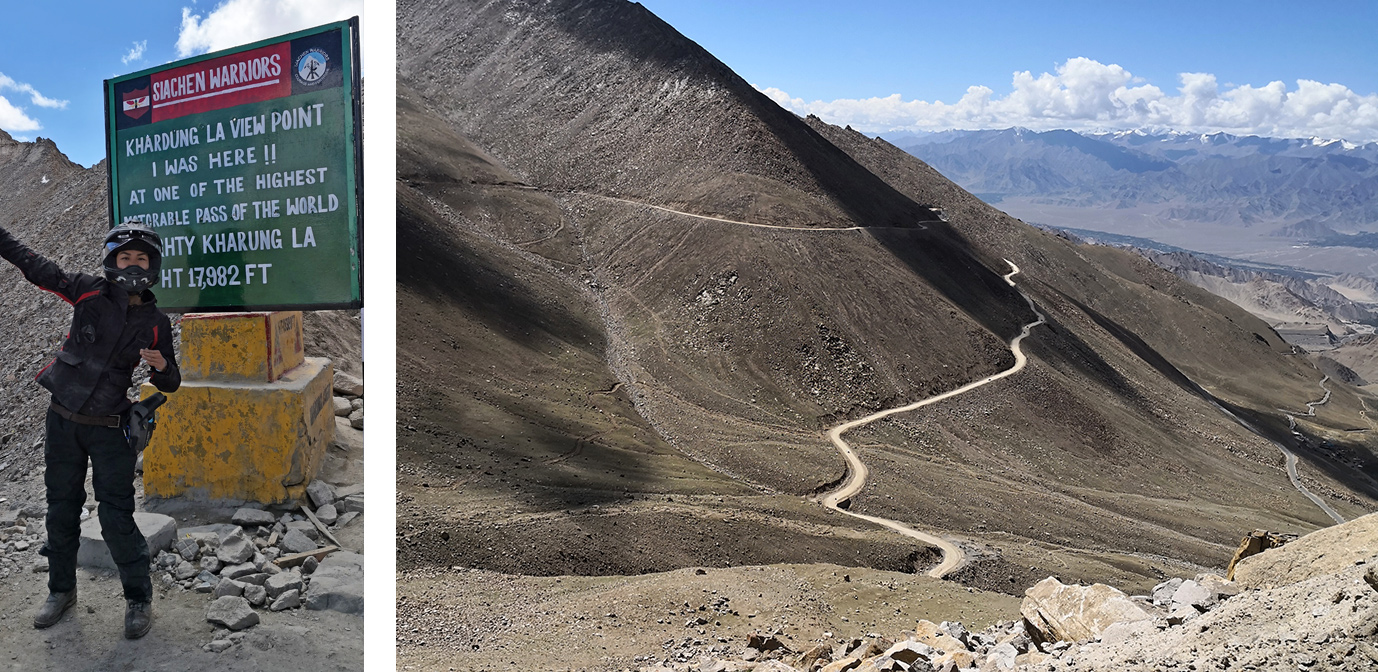 TURTUK
Just about 10km shy of Pakistan, Turtuk village might be the last frontier of India, but getting there feels like riding to the end of the world. The indomitable Karakoram range closes in on all sides, while the ubiquitous Tibetan prayer flags vanish. All about the Shyok river is a luxuriant sprawl of greenery, testament to the village's organic agricultural ways. Ripe apricots beg to be reaped at every turn. This formerly Baltistan region is piously Muslim, but it already looks to me like paradise on earth.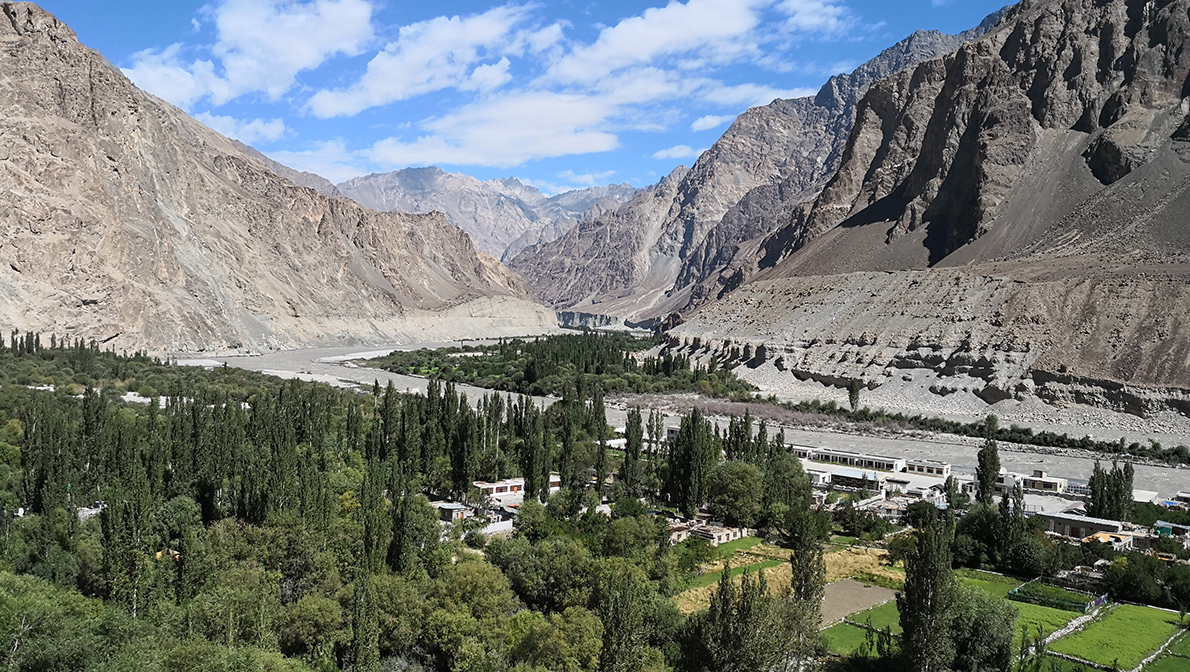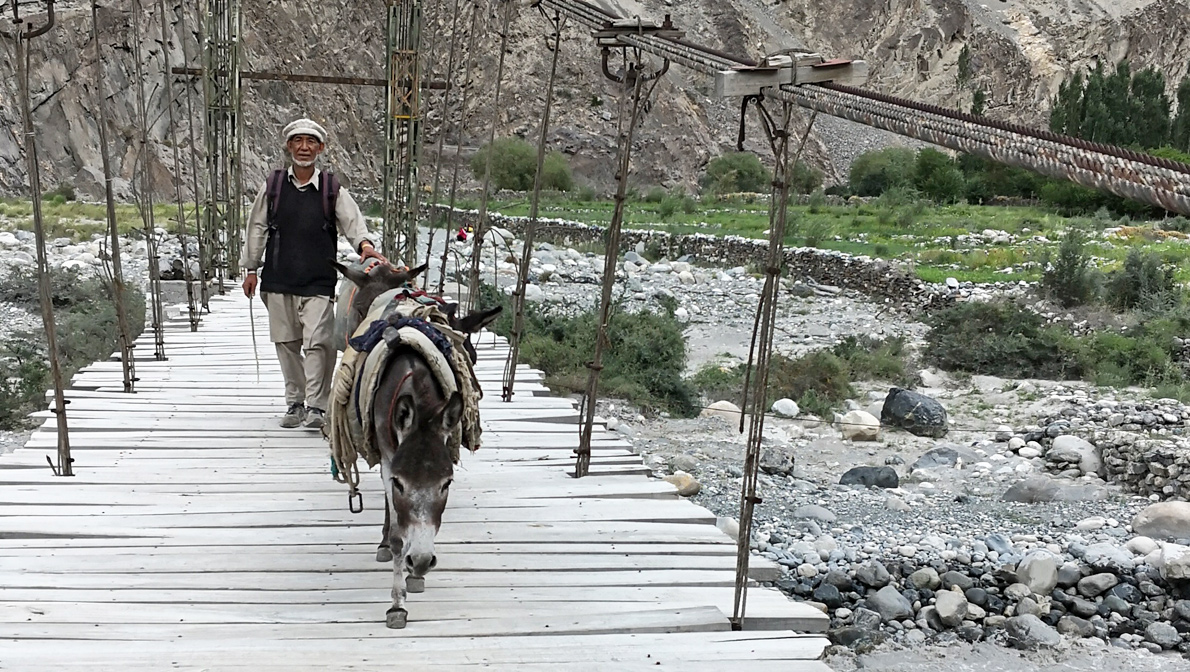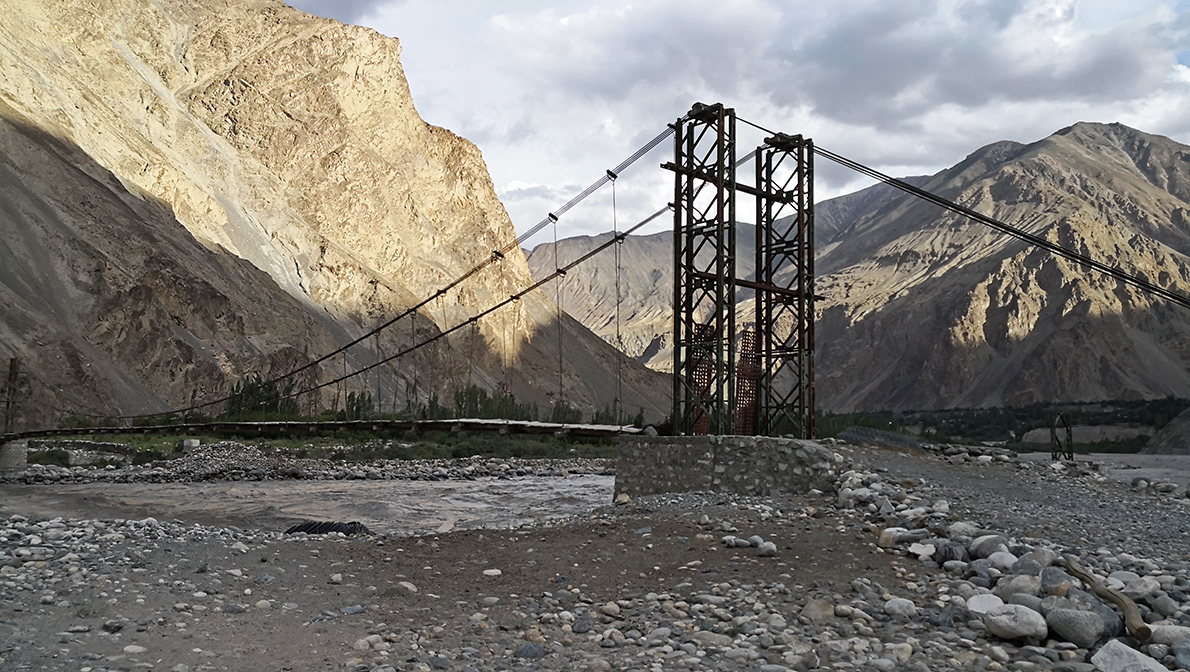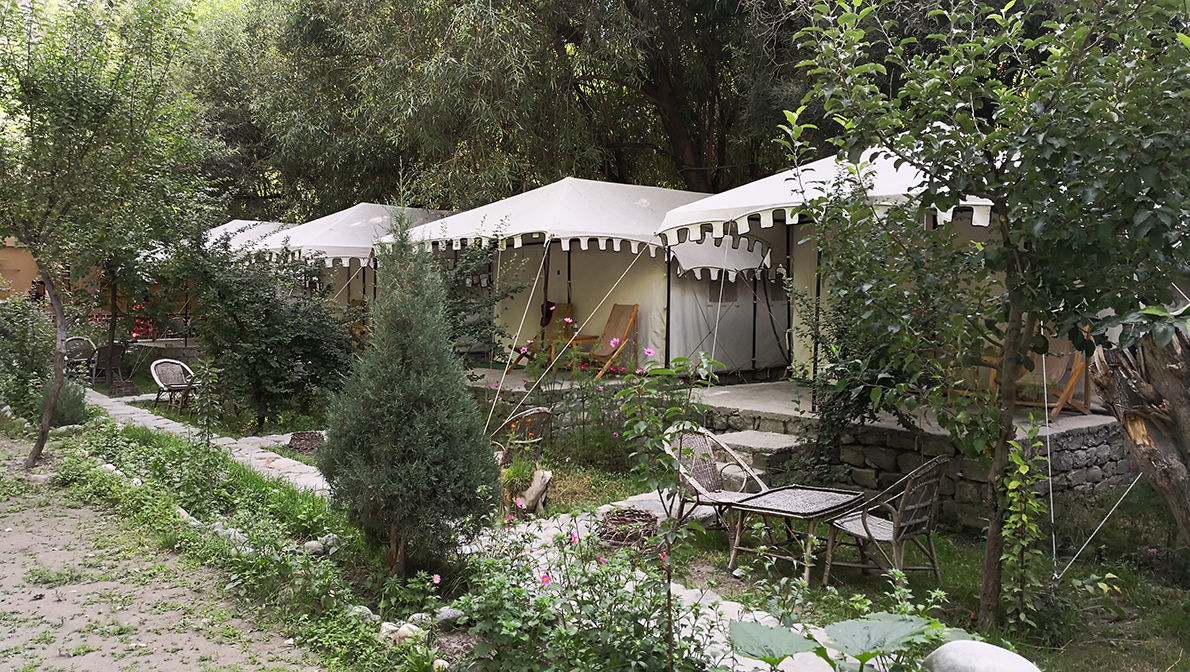 LAKE PANGGONG TSO
At 4,350m altitude, this is the planet's highest saltwater lake, and one that no single country can entirely lay claim to, since her languid curves straddle both India and China.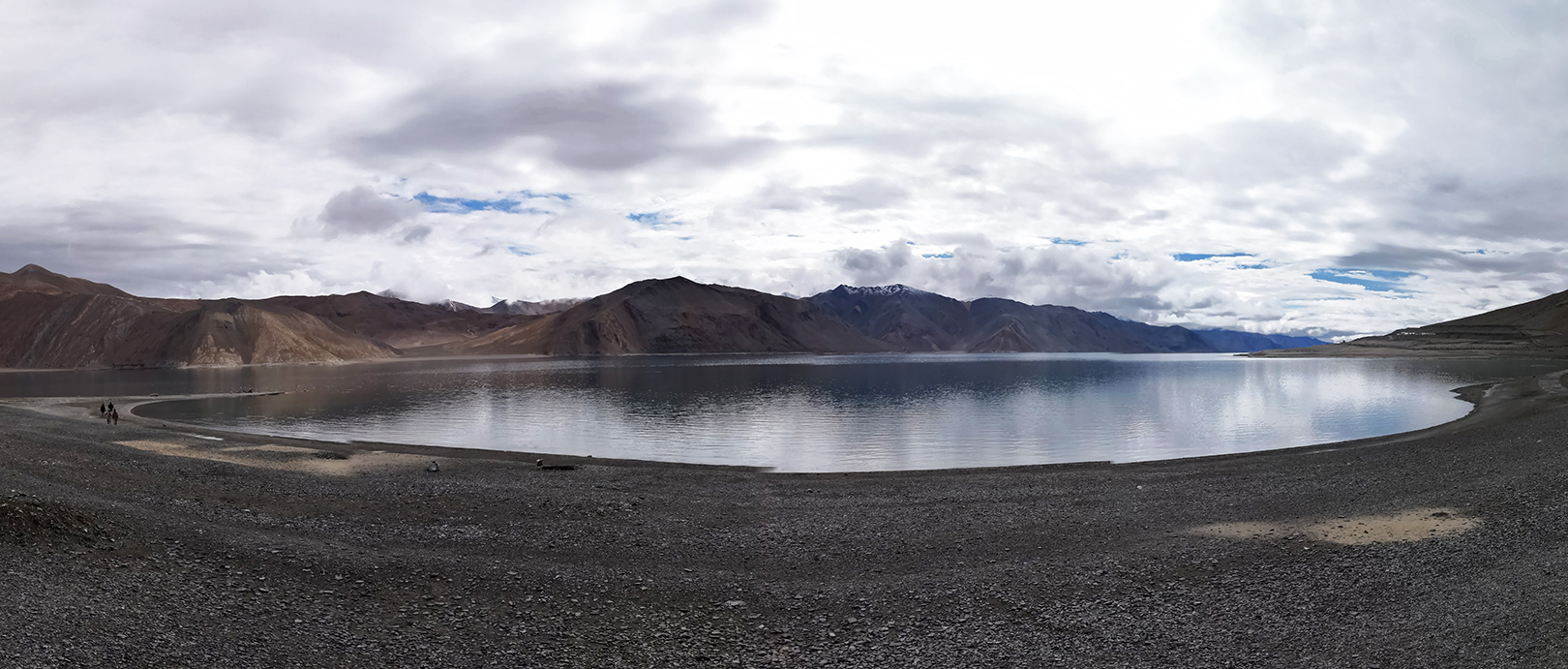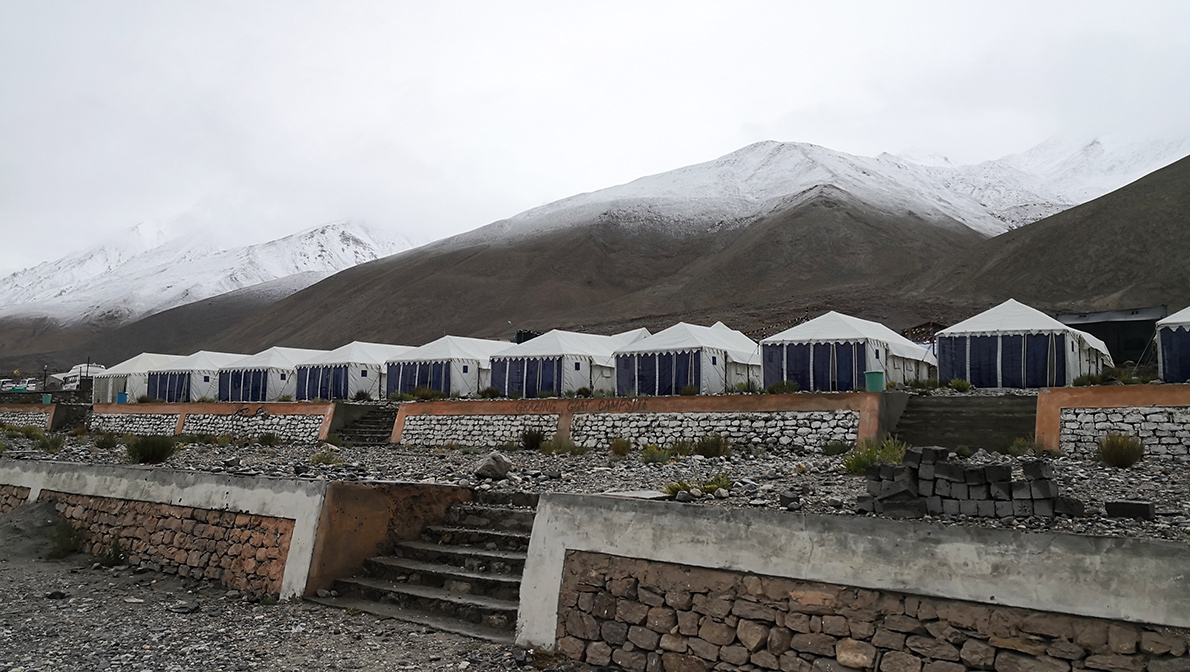 LEH
The capital of Ladakh makes a good base to explore the region, since it's where you can re-connect with modern luxuries like medicines, tourist souvenirs and even tenuous wifi. The city is well-connected to Delhi by regular flights from its own airport, and offers a thriving central market and other historical-cultural attractions to satisfy visitors.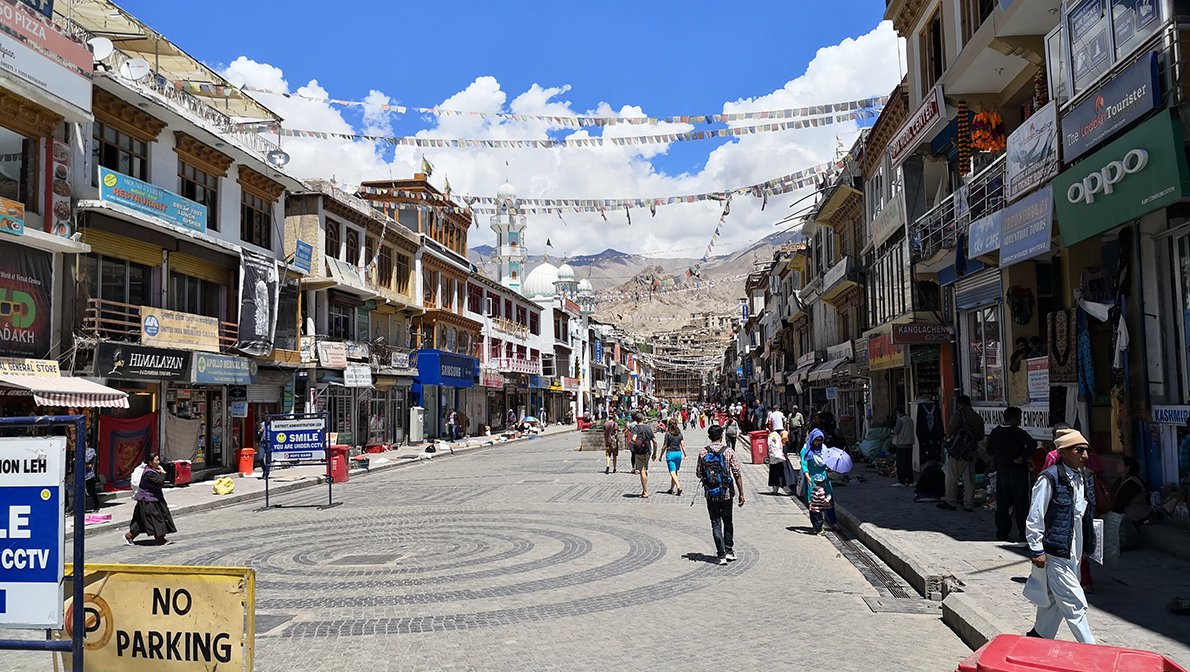 Curious about the pervasive military presence throughout the conflicted Jammu and Kashmir region? Visit the local army museum to fill up on fascinating trivia, including tales of the world's highest glacial battleground.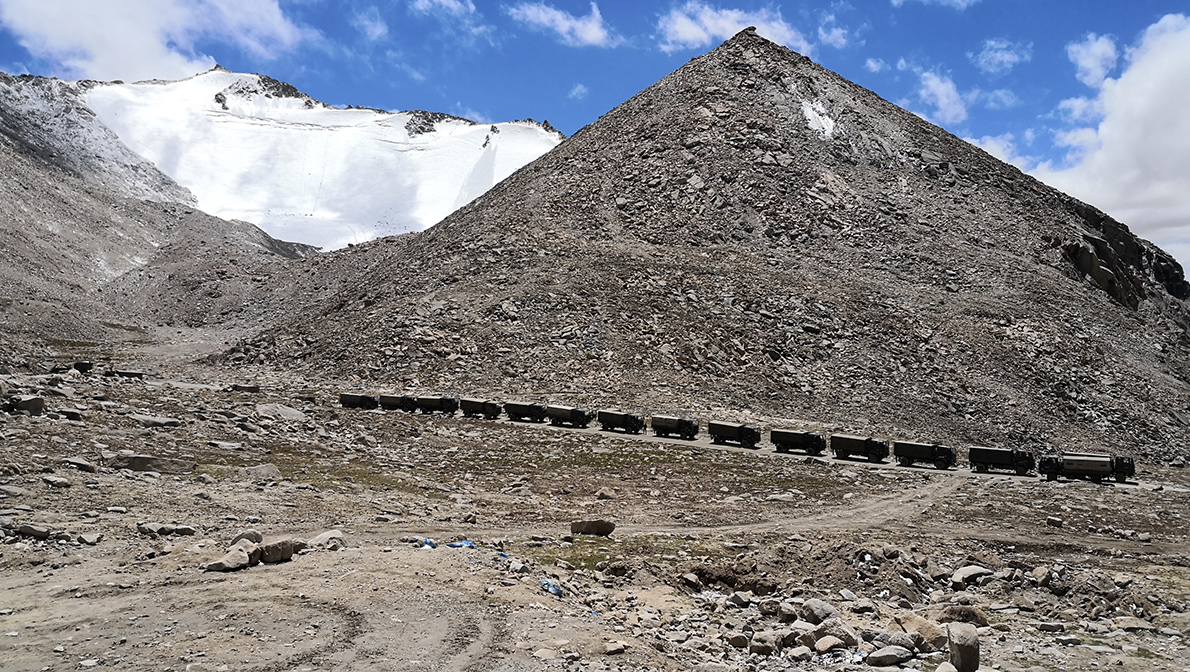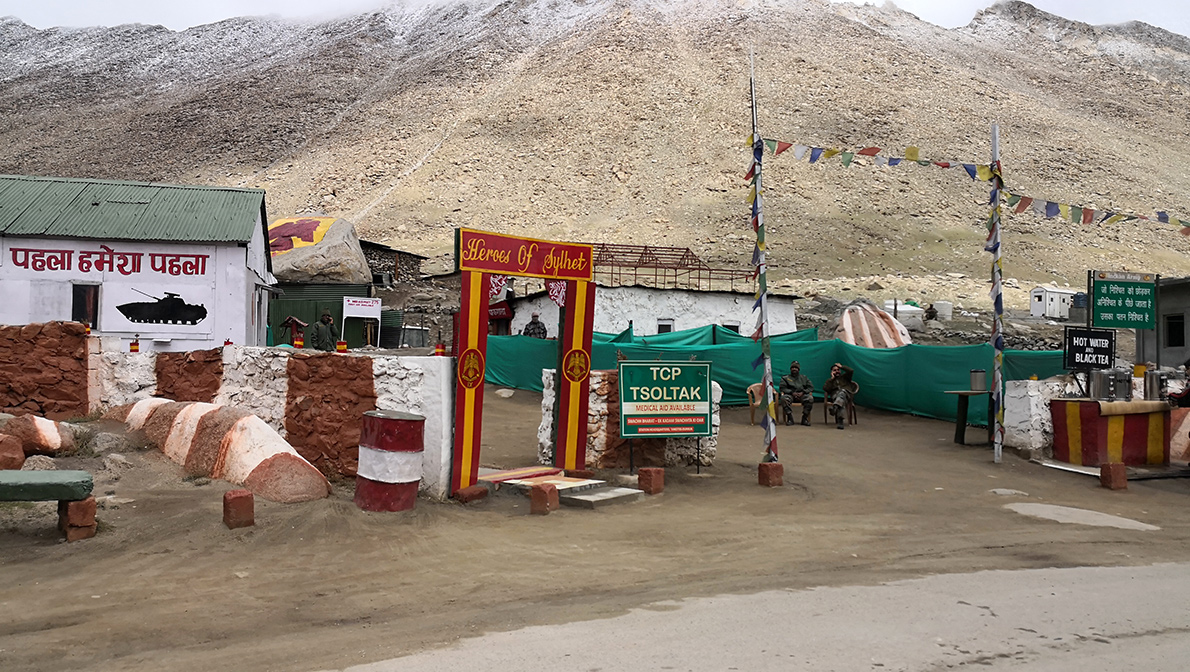 Tips
Altitude sickness can nastily incapacitate even the fittest rider. Guzzle water, stay off the booze and don't skip the Diamox until you've acclimatised. If the headaches and nausea get too much to bear, alert your tour guide or campsite staff – they should have oxygen canisters within quick reach.
Forget Facebook on the mountains, and save your photos for Latergrams. Except for Manali and Leh, pretty much everywhere else is data-barren. Don't bother buying a SIM card from Delhi either, because it won't work in the northern regions.
Be adventurous with Ladakhi eats! Tibetian momos (dumplings), thukpas (noodle soups) and all sorts of paneer (cheese) curries are perfect fuel for the tummy and soul.
Stick to bottled water and be religious about your probiotics, and you might avoid the crippling diarrhoea that struck most of us.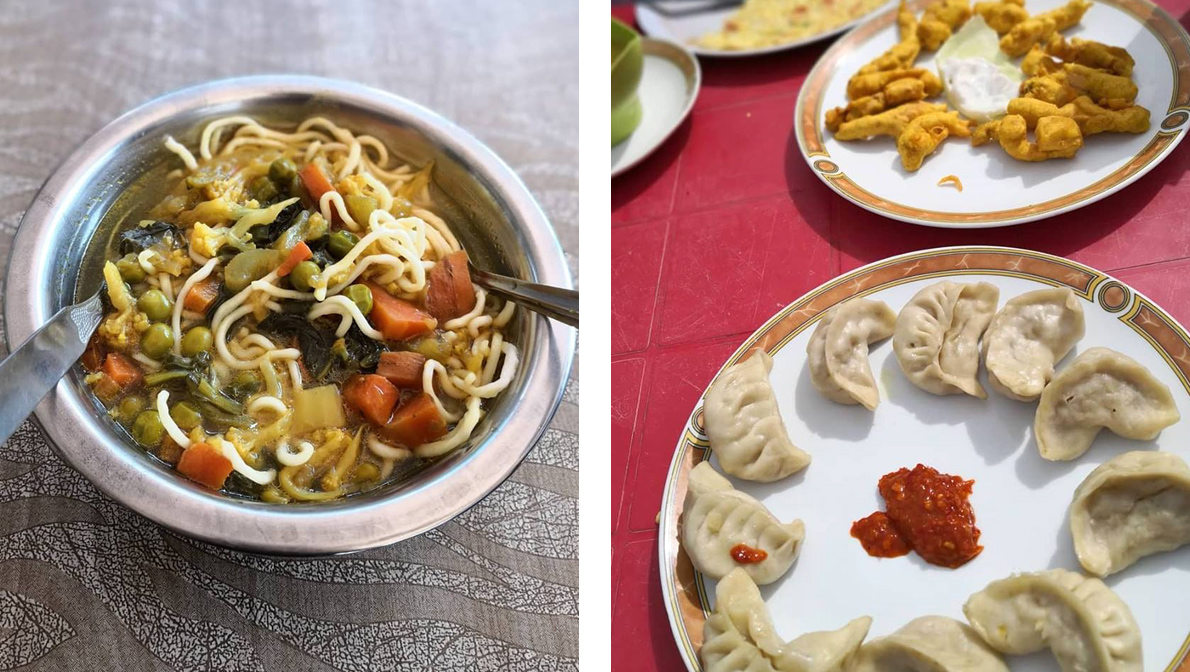 As with all road trips, savour the journey; it promises to be just as exquisite as the destination. Keep your throttle wrist light, and trust in Jugaad!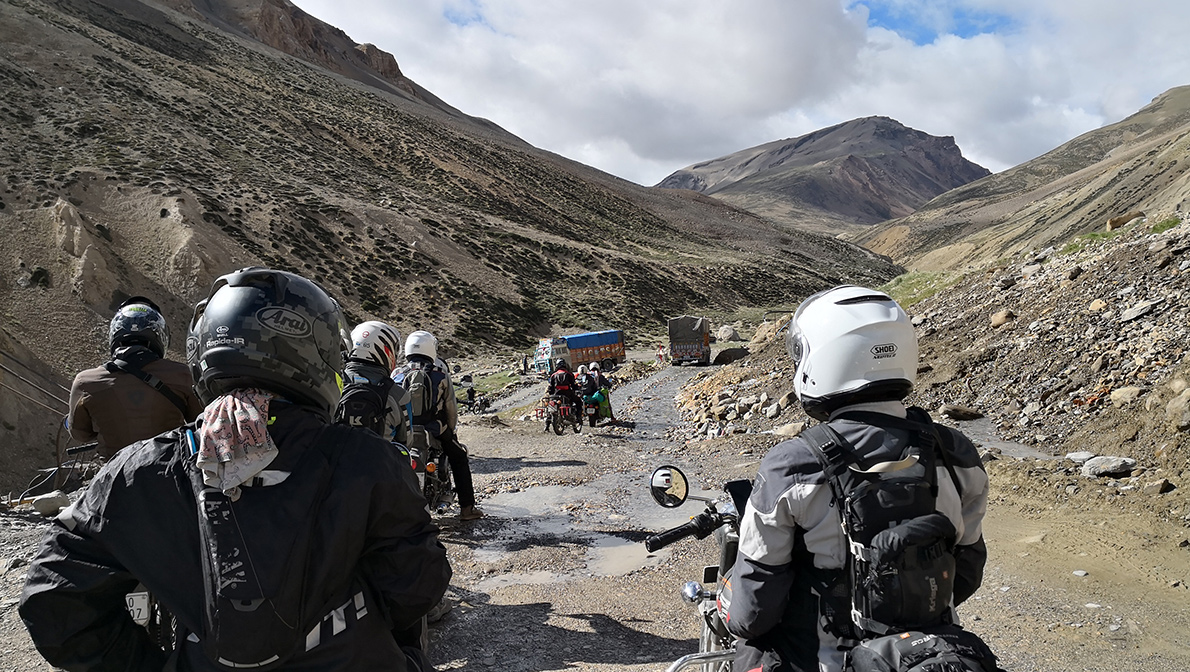 —
For a similarly enchanting experience, we recommend CoSurvivor travel agency.
Whatsapp Saurabh Khanduri: +91 99100 43259