The Distinguished Gentleman's Ride with a difference
Story by: Benjy Choo, Timothy Nga & Lovie Lau
Photos & Video by: Stephanie Pattiselanno
When it comes to touring Malaysia, I liken Melaka to the Goldilocks of riding destinations. Its rideable distance according to the butt-o-meter is not too far, not too near, just right. There is even a cherry on top of the icing, an array of mouth watering treats and affordable lodging give us little reason not to visit for the weekend.
But this was no ordinary weekend.
It was the weekend of the much anticipated Distinguished Gentleman's Ride (DGR) 2018. A multi-nation, dapper group ride to raise awareness for men's health and prostate cancer. You know, a good cause.
What's more, a group of Ducati Scrambler riders decided to head to Melaka to experience just how the DGR is like in a different city complete with a different route.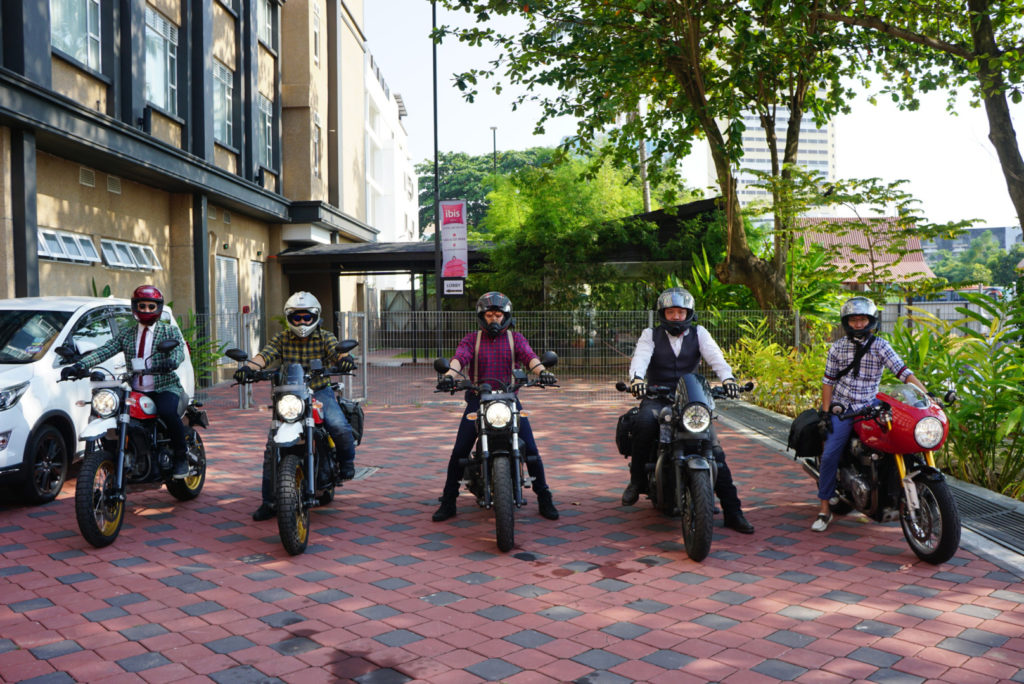 We speak to Tim Nga, who rides a Ducati Scrambler Desert Sled and Lovie Lau, who turns heads in her Ducati Scrambler Café Racer.
TGA: What made you all decide to head to Melaka to do the Distinguished Gentleman's Ride?
L: I was guaranteed a wider variety of vintage bikes to drool over! Also, my friends were particularly excited about it – bikes to see and food to eat, I had to experience it for myself.
T: Honestly, I headed up to Melaka for the company, the ride and the promise of amazing food. I wouldn't consider myself a hardcore biker so DGR was a bit of a sideshow.  Having said that, I was very pleasantly surprised!
TGA: Have you attended any other DGRs in Singapore? If so, how was it different?
T: This is my first DGR although I've heard from friends about riding in Singapore's DGR and how some of their air-cooled V-Twins started overheating in our tropical climate cause of the slow traffic.
TGA: Describe the other bikes that you saw at the DGR Melaka?
L: Many of the bikes have undergone serious modifications and there were also lots of beautiful vintage rides around. A visual (and aural) feast!
T: Custom, custom, custom.  Malaysia doesn't have enforced vehicle retirement or outdated laws on vehicle customisation, so motorcycle lovers have the luxury of taking the time to really love and individualise their machines quite far from stock sterility.  The ones that really stuck out for me were the small Japanese bikes from the 70s and 80s.  I think I saw a couple of Yamaha YZ250s.  There were also a couple of elderly guys on tricked up kap-chais (cubs) who were a hoot to ride with.
TGA: How about the route itself? Was it well planned? How was it different?
L: Very well-planned! There were traffic police officers that helped direct traffic which really helped the whole ride go smoothly without a hitch. The route was great, it brought us through the neighbourhood and really showed the local culture. The scenic parts could be longer though.
T: I must admit, I was a bit apprehensive about the heat and riding in Sunday Melaka traffic, and I was expecting to peel off quite early on, but I stayed on till we finished the loop, which is really saying something for the quality of the experience.
The route itself took us through a nice variety of sights along the coast, across a couple of bridges, through the city centre, and alongside a few kampungs.  There were also a few loops which allowed the riders at the front and back to experience the sheer scale and volume of 300+ bikes riding together and the overall atmosphere was very joyful and collegiate between bikers, not always a given as evolutionary territorial instincts kick in.
It also appeared like the entire town had put everything else aside for an hour to get behind the ride, which is really nice to see as opposed to Singapore where people mostly seem keen to get on with their own business.  I specifically remember riding behind one older dude on an old thumper who had a DGR bandana tied around his left bicep – he might've been a marshall.  As we rode through Klebang, the residents and shop owners who had gathered by the roadside started cheering him on loudly as he returned them cheeky grins.  What a lovely sight!
What really helped the ride experience was how the Melaka authorities were very efficient in stopping traffic as the motorcade passed by so we never had to set foot down the entire 30-40mins.  A big plus in my book!
TGA: Any tips/advice for future DGR Melaka travellers?
L: Arrive early and prepare for very hot weather.
T: – Make sure your posse is fun and flexible.  This makes the overall experience exponentially better.
– Go up early to enjoy the food.
– Stay far away from Jonker unless you enjoy getting stuck in slow traffic on big bikes.
– Be bold in your dress-up choices.  Gentlemen don't all have to be in white shirts, vests and bow ties.
So, Penang DGR next year, anyone!?