Dressing up the Husqvarna 701E for adventure travel
This traditionalist finally gives up carburetors for EFI, but not skinny dirt bikes for overlanding.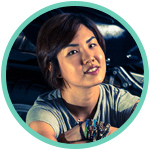 ---
I'll begin with a posthumous salute to the iron mule that carried me reliably across 33 countries: Spiderpig the '99 Suzuki DR650SE. He'd have thumped me across paradise and hell without missing a beat, except that after a decade-long love affair with Japanese carburetors, I decided that the end was neigh.
I might have overcompensated a little with this very white, very angry, very tall, very European machine that's boiling over with electronics. But feck me, is he the devil to ride!
Is this overgrown dirt bike an offbeat choice for long-distance travel? Actually, just like his DR650 predecessor, it makes alot of sense for someone with my travel habits: often alone, fond of off-tarmac detours, not strong enough to wrestle an over-200kg behemoth on her own. This 2017 Husqvarna 701 Enduro checks most of the boxes on my list: single cylinder dualsport, less than 180kg ready-to-go (he's 160kg), respectable service intervals (10,000km oil changes if you believe the manual), reasonably reliable, luggage-capable and a power-to-weight ratio to beat the DR650. On that last point, the 701 hammers out 74hp of lava-smooth thumper aggression – okay, definitely overqualified!
Side note: everyone gushes about how much fun I'm going to have with this bike, but hardly anyone ever brings up the fact that it's got a European price tag to match. Argh!
I've had barely a month to throw some adventurous clothes onto Axl Rose before we set off on a little get-to-know-you journey. Electronic fuel injection is still all black magic to me, and here's hoping I won't regret saying goodbye to carburetors.
Here's what it takes to kit this little viking up for fuss-free adventuring.
Comfort
1) Seat Concepts comfort seat
Stock seat is a plank. The Seat Concepts is kinder on my ass, but its broader width forces me to stretch harder to get a leg down.
(I got mine from Ride Equip.)
2) BMW handlebar grips
The old MX grips felt like I was groping a cactus.
Fuel Range
3) Rade Garage 5L underseat tank
The stock tank holds only 13 litres, and is good for just over 200km. These extra 5 litres will deliver nearly 300km of rolling good times, in total. The best part is, this tank fits completely under the saddle and doesn't mess with the 701's svelte geometry.
(I ordered direct from Rade Garage.)
Protection
4) Barkbusters
Should spare me a lifetime of broken levers.
(I got mine from M-Technik.)
5) 4XLED auxiliary lights
Need to see and be seen.

6) Loudass horn
The stock horn seemed a little too polite.
Reliability
7) Perun Moto reinforcement bolts
Just like the KTM690, the 701 has no true subframe. Instead, a plastic fuel tank functions as the entire rear support, anchored to the main trellis by 2 upper and 2 lower mounting bolts. The mounting bolts have been known to give way when the bike is bounced around offroad at full luggage load, so for peace of mind and unfettered bouncing, I swapped in tougher aftermarket bolts.   
(I ordered direct from Perun Moto.)

8) Oberon Clutch Slave Cylinder
Another preemptive fix, since the original clutch slave seals are another commonly reported failure.
9) Modified Scottoiler
Should help extend chain life on a long journey without me having to pack messy chain lube. This one has been modified to run on manual screw control instead of a vacuum system.
10) Fuel filter sock over main tank intake
No such thing as cleaning a clogged carburetor jet on this bike! Junk in the tank would probably mean a ticket straight home, so this sock is cheap insurance against rural fuel.
Luggage
11) Tusk pannier racks
Luggage mounting system that doubles up as crash protection and a laundry rack.
12) Lone Rider motobags
I wasn't keen on the weight and rigidity of solid pannier cases, nor the insecurity of completely soft bags. Also, Axl Rose's rear tank filling system makes it completely infeasible to strap on a large duffel bag on the pillion seat, since I'd have to unload it to fuel up. Besides, the seat height is so ridiculously tall that I'd also have trouble swinging a leg over with a duffel in the way. 

The Lone Rider motobags are the toughest, most versatile moto-luggage system I've found. They're semi-rigid, meaning they can be strapped flat down out of the way when empty, yet deliver nearly 70 litres of sturdy storage when fully opened. It's a lockable system, slashproof and utterly waterproof, with watertight inner rollie bags to complete the package. These bags swallow up all the tools and supplies I need for a month on the road – no need for an additional duffel or topcase!
(I ordered direct from Lone Rider.)

Handling
13) Mitas E07 Dakar tyres + heavy duty rear tube
I've used the E07 on the DR650 before, and found them delightfully competent on both dirt roads and multi-weather tarmac, if a little short-lived – they ran bald in under 10,000km.
14) Kouba lowering link
With an original seat height of 950mm, I'd be left dangling at traffic lights, if not for this aftermarket lowering link. 1 inch of compression is as much as I could get away with without seriously compromising rear wheel travel.
15) Sidestand kick up mod
Skyscraper seat, awkwardly-angled side stand. It was impossible for me to kick the stand up or down from the saddle, until I cheap-hacked it: strapped on a $10 U-bolt ball mount for foot leverage.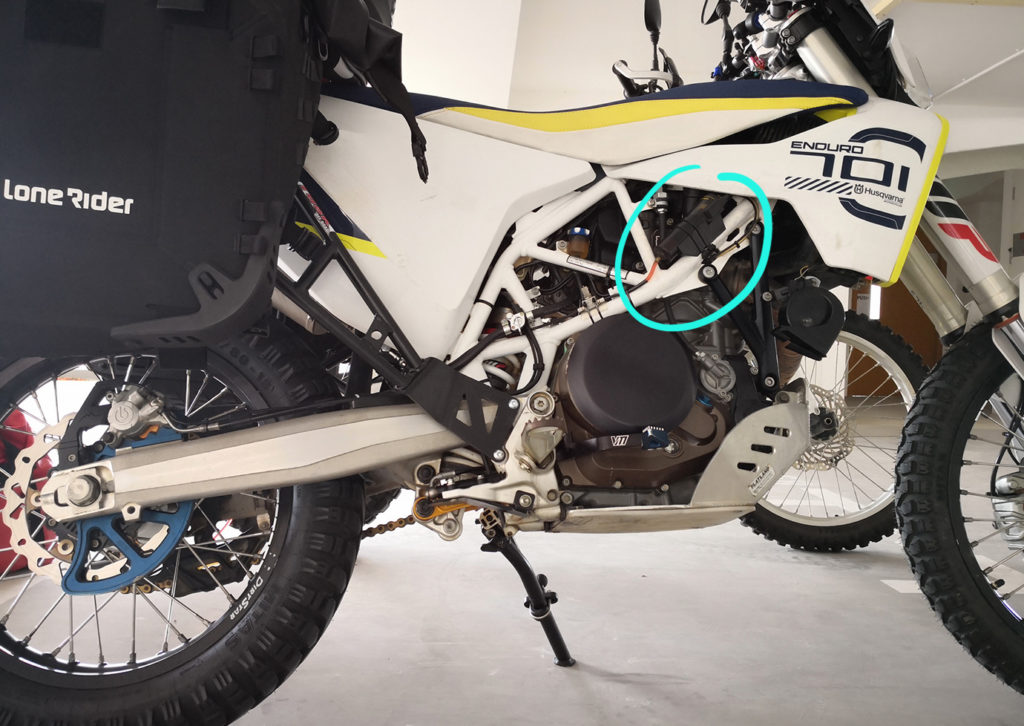 —
Now this viking looks ready to dance; next stop, Laos? Watch this space!