Motoart: Honda AX-1, an adventurer ahead of its time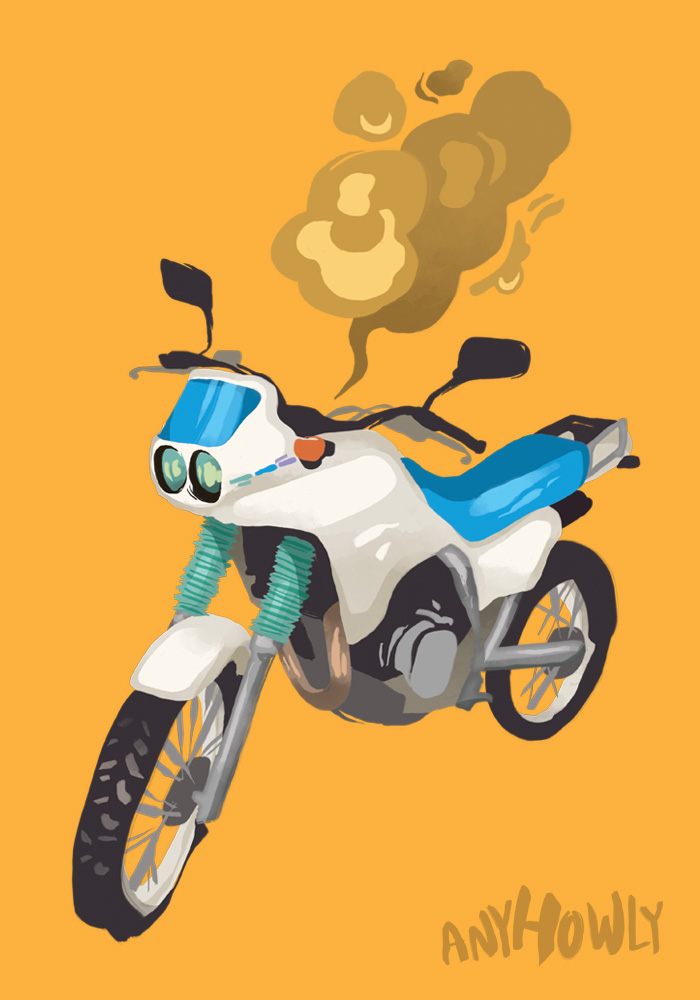 Words & Illustration by: Cherie "Anyhowly" Tan
In 1987, Honda packed its signature indestructibility into a 249cc, liquid-cooled, 4 stroke, single cylinder dual-sport package, and trotted it out to a niche Japanese market. The AX-1 emerged as somewhat of an alien during an era when "adventure motorcycles" were massive Dakar-ready beasts and most other 250cc machines came 2-stroke. Our fathers probably thought it was a fat, ugly dirtbike, and our mothers wondered if it was an awfully slow street racer with aerodynamic issues.
Although the AX-1 enjoyed only a brief moment in the sun, with Honda quitting production in 1994, it actually boasted technology that put it toe-to-toe with today's smaller dualsports. The AX-1 rolled out of the factory with alloy wheels, aluminium Pro-Link suspension, an electric starter, and a 6-speed gearbox for highway legginess of up to 140km/h. A 9 litre tank and modest fuel consumption of over 35km/l meant it could carry you at least 300km away from a zombie ambush at Caltex. At 133kg wet weight and punching out 29hp, its power-to-weight ratio trumps the 2013 CRF 250L, which weighs 147kg wet and puts out 23hp.
You might catch its larger cousin, the Dominator 650, on Singapore's roads, but not for much longer. Still, the AX-1 is one sturdy little ninja that I wish had made it to our shores back in the day.
*edit: It seems that the AX-1 DID make it to our shores. A meagre handful were brought in direct from Japan, and at least one collector still garages a piece here. That's incredible! Now, I'd love to watch a showdown between this rare classic and a CRF250L…
—
For more art by Anyhowly, visit anyhowly.com.
---
Motoart is a series that throws the spotlight on motorcycles in art and culture. Found awesome stuff you'd like us to feature? Let us know here.